Nonprofit Budgeting: Understand the Basics [+ Template]
Thursday, August 27, 2020
Throughout 2020, you've probably had to reevaluate your nonprofit's budget. The unprecedented challenges that the global pandemic has brought to light have forced many small to mid-sized nonprofit organizations to operate on an even tighter budget than usual.
See how a dedicated accountant can help compile your nonprofit budget.
Contact Jitasa
This makes it a perfect time for your organization to refresh your understanding of operating budgets in order to re-strategize your own to make the most of it.
Here at Jitasa, we help executive and financial directors at nonprofit organizations to organize their finances for more efficient use. In our success stories, you can read about other organizations that trusted their financial information to our experts and how the relationship allowed them to redirect their energy and focus on their mission.
Effective financial planning and budgeting is even more important during these difficult times. Open communication with an expert about your nonprofit's finances can help you evaluate your nonprofit budget and redefine goals according to expert best practices.
That brings us back to the importance of a comprehensive understanding of nonprofit operational budgets. In this guide, we'll cover the basics and take a deep dive to help your nonprofit re-analyze your budget for the year. We'll cover the following points:
Feel free to use the above navigation to jump to the section that most piques your interests for your organization. Or, read with us from the beginning for a complete overview. Let's get started!
What is a Nonprofit Budget?
A nonprofit budget is a planning document used to predict expenses and allocate resources for your organization. It details both the costs that your organization will incur as well as the revenue you expect to receive over a set period of time.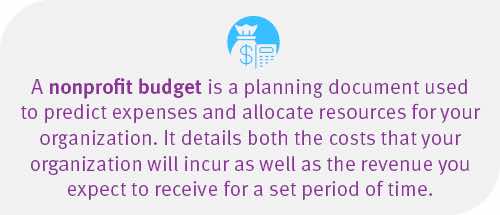 Your nonprofit will craft two primary budgets on a regular basis. These are your operating budget and your capital budget.
A nonprofit operating budget breaks down the annual projected revenue and expenses for the organization. It breaks down your revenue by different funding sources and your operating expenses by program and overhead costs.
Your capital budget projects the expenses and revenue associated with multi-year, long-term projects. This tends to cover your nonprofit's capital campaigns and other major expense campaigns.
Throughout the year, these budgets are what you review regularly to monitor the process of your various projects, fundraising success, and your financial standing. This means your budget isn't something that you create but never look at again. It's a living document that should be at the center of your financial activities.
Features of Effective Nonprofit Budgets
The great thing about reviewing your nonprofit budget now, during the chaos of 2020? You have the opportunity to make it even more effective. As you and your accountant work together to craft or restrategize an effective budget, you'll need to keep in mind the features that make a budget most effective.
In our experience, these features include defined activities, a specifically defined time period, and realistic and measurable metrics. Let's cover each of these features in-depth.
Defined Activities
Your nonprofit's budget and your strategic plan should go hand-in-hand. Every aspect of your budget should directly associate with a specifically defined activity that you're looking to accomplish.
In addition to that, each of these activities should have a specifically defined separate budget. These separate budgets all combine into the singular organization-wide operational budget.
For example, your nonprofit may set a goal to raise $15,000 to build a computer lab at an inner-city school.
You'll need to put together a budget that plans out all of the necessary expenses to build such a computer lab. For instance, you should estimate the cost it will take to buy the computers, invest in effective wifi, and gather miscellaneous equipment (like insurance) necessary for such an investment.
On your larger, organization-wide budget, you'll need to designate what sources you'll use to raise this $15,000 and allocate the funds to the project.
Specific Time Period
When your nonprofit sets goals for your organization's strategic or development plan, you make sure that those goals are specific, measurable, attainable, realistic, and time-based (or SMART). The measure we want to emphasize here is the time aspect. Your nonprofit should be very mindful of time as you craft your budget.
Nonprofits usually devise a single budget for the year. However, it's important to consider when your organization expects to collect revenue and when you want to complete the activities outlined in the document. For example, if you know that #GivingTuesday and year-end giving is a major source of revenue for your nonprofit, you may decide to complete a larger project directly after these campaigns.
Another reason time is important? Getting the budget approved and setting check-ins for your team. Before you even start the budgeting process, you should set a day and time when you want the document to be approved by the board. This holds you accountable by providing a due date to complete the plan.
You should also set up regular check-ins with your team to make sure you're sticking to the budget you've planned out. Many nonprofits do a quick check-in monthly with a more in-depth review each quarter.
Realistic and Measurable Metrics
The idea of defining realistic and measurable metrics goes along with defining the activities in your organization's budget. Each of your activities should be associated with a specific dollar amount for each expense and revenue source.
This is especially important when your organization develops the revenue portion of the budget. Your nonprofit's funding should be specifically associated with different sources of revenue collection.
For example, if you're expecting to receive $100,000 from individual fundraising this year, you may determine that $50,000 will come from major donors, $20,000 from your peer-to-peer campaign, $20,000 from your online donation page, $10,000 from direct mail fundraising.
Remember that each of these funding metrics should be realistic for your team. Determine what is realistic by analyzing your past fundraising successes. However, you may also choose a more aspirational goal to push your team to raise more. Just don't set it too high or else you may discourage your team.
Nonprofit Budget Components
Whether you're crafting a nonprofit budget on your own or if you're working with an expert accountant, you'll need to make sure it's complete with both your expected revenue and your expense budgets.
These are the two main components of a nonprofit budget. Let's dig a little deeper into each topic.
Expected Revenue
Your expected revenue should be separated and allocated by each fundraising source. Use past data from your development team to better understand and predict how much you'll raise from each source.
There are two methods of forecasting that you can use to predict your nonprofit's future revenue. Each of these forecasting methods creates some flexibility in the budget so that your organization is more likely to be on target throughout the year. These two methods of forecasting are called the discount method and the cutoff method:
Discount method: Using this method, your team identifies the dollar amount that you expect to receive from each fundraising source. Then, you multiply that dollar amount by the fundraising probability percentage. For example, if you're applying for a $10,000 grant and have a 75% probability of receiving the grant, you'd update the forecasted revenue to be $7,500.
Cutoff method: Using this method, your team identifies the total amount of predicted fundraising revenue, then multiplies this by your overall probability estimation. For example, if you have a successful history in fundraising and expect an 80% chance of success in your predicted $100,000 of estimated revenue, you'll forecast $80,0000.
A nonprofit accountant will be able to help walk your team through the decision of which forecasting method is best for your budget. Plus, they'll be able to work with you to determine the probability rates for your forecasting.
It can be dangerous to predict that you'll have 100% success with all of your predicted revenue. It's better to be cautious when planning ahead so that you're more certain that you'll have the funding you need to achieve your goals, no matter what external circumstances occur.
Expense Budget
The second part of an effective nonprofit budget is your expense budget. This is the tool that you use to determine and predict the costs endured by your nonprofit to fund your various projects.
This can be broken down into your fundraising, administrative, and program expenses. The combination of your fundraising and administrative expenses are what make up your nonprofit's overhead. While every nonprofit's expense budget will look slightly different, the Better Business Bureau recommends that organizations don't spend over 35% of your funding on their overhead expenses and spend at least 65% on their programs.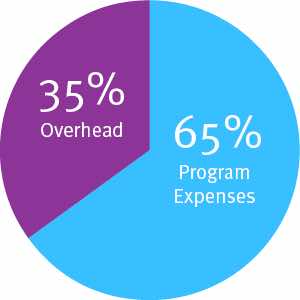 However, as we mentioned, this will look different for each nonprofit. That's why it's important to discuss your own expenses with an accountant who has experience working with nonprofits. They can help make sure your expenses are in check.
On a more granular level, your nonprofit should keep in mind the specific expenses you'll encounter, such as:
Fundraising expenses can be broken down into your campaign marketing, fundraising event venue or virtual software investment, and fundraising technology tools.
Administrative expenses can be broken down into things like the salary that you pay your employees, the investments you make to organize data, the rent for your office space, and the bills you pay for your organization.
Program expenses are those that are necessary to conduct your work in the community. For instance, an organization that encourages music education for underprivileged kids might invest in classroom space, instruments, and music books for their program.
The best way to estimate what your nonprofit's expenses will be is by examining what you've spent in the past. Be sure to separate your organization's fixed and variable expenses, then estimate what various budget items will cost.
Fixed expenses are those that are constant from year to year like your organization's office rent. You can count on this to be the same price from year to year due to the contract you have with your management company. Meanwhile, variable expenses are those that may change from year to year and cannot be counted on to remain constant. For example, your fundraising expenses might change from year to year depending on the campaigns you're running.
There are many misconceptions about nonprofit expenses. People tend to think that nonprofit employees shouldn't make great salaries and that overhead is an inherently bad thing. This just isn't true. The expense portion of your budget should ensure a healthy financial balance for your organization.
Nonprofit Budgeting Template
We recommend that your nonprofit reach out to a trained nonprofit accountant to craft your budgets from year to year. An accountant will help lead you in the right direction when it comes to discovering opportunities to cut back on various expenses. They'll also assist your nonprofit in finding new ways to enhance your fundraising to maximize revenue.
When you've completed your annual nonprofit budget and it's ready to be sent off to your board for review, it will look something like the template below.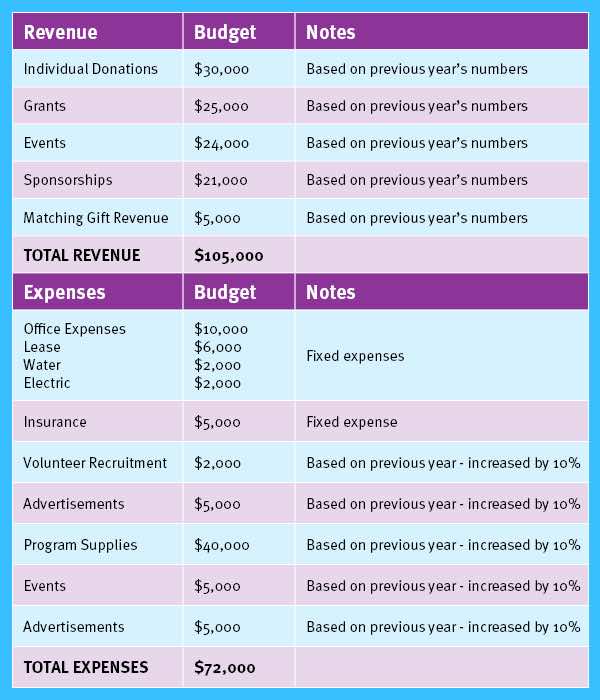 Review Your Nonprofit Budget
Dummies.com explains, "A good budget is crumpled, coffee stained, and much scrutinized. A good budget guides and predicts." This means that your nonprofit should be frequently checking in on your budget to monitor your progress throughout the year.
Your organization should hold nonprofit budget check-ups regularly. Many recommend that you hold them annually, quarterly, and monthly to make sure your organization is on track.
The annual review of your nonprofit budget generally occurs when you're writing the next year's budget. This is when you (and your accountant) review the budgeted finances from the past year and determine where the budget stayed on course and where your finances strayed from the path. You'll use this information to inform your predicted revenue and expenses for the next fiscal year.
When your team meets quarterly to review your budget, you should compare your budgeted revenue and expenses for that quarter and compare that to the actual amounts. You should also review your grant budgets and determine which funds were won, used, unused, etc. Finally, review the entirety of the budget and look for any discrepancies. It's better to catch these early and make note of them for future budgets.
Monthly budget reviews allow your team to meet together frequently and regularly to look over your finances for the month and determine the budgeted vs. actual expenses and revenue for individual projects. You can also review balance sheets for discrepancies and look forward to ensure that future budgetary items appear to be in line.
Again, any time that your organization reviews your budget and your accounts, a trained accountant will help you make sure everything is in order. Reach out to the accountants at Jitasa to ask about how their trained financial professionals can help your nonprofit review and craft the best budget to help you succeed.
The beauty of your nonprofit budget is that it allows your nonprofit to remain transparent with your team, your board members, and your supporters. Transparency in finances is key for instilling trust and confidence for everyone involved with the organization.
If you're interested in investing in a trained accountant to help your nonprofit ensure transparency and accountability in finances, conduct your research. Here are some additional resources you can look into for more guidance:
Need help putting together a nonprofit budget for your organization?
See how Jitasa's dedicated accountants can help!
Learn more