Nonprofit Audits: A Complete Guide to Financial Auditing
Thursday, June 30, 2022
When you first started your nonprofit, you filed a Form 1023 to be registered as an official 501(c)(3) organization. This meant the federal government wouldn't require your organization to pay taxes so that you can instead reinvest all of your revenue back into your mission and the organization itself. But does this exemption from the burden of paying annual taxes also mean that your organization is also exempt from nonprofit audits?
The simplest answer is no. But, the more realistic answer is it depends. There are cases when you're required to audit your nonprofit's finances, but it's not the IRS conducting that audit. Generally, your organization will hire an independent auditor to analyze your statements and records. Let's start with the basics:
What is an independent nonprofit audit?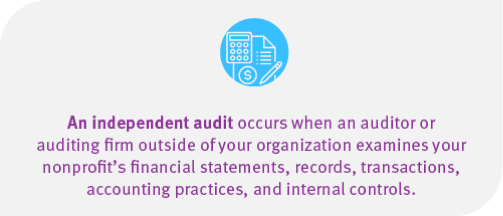 An independent audit occurs when an auditor or auditing firm outside of your organization examines your nonprofit's financial statements, records, transactions, accounting practices, and internal controls.
The IRS has no reason to audit your organization. After all, you're not paying taxes! But other entities may require your organization to conduct an audit. For instance, some separate state or federal agencies may require an audit from your nonprofit depending on your size or spending habits. Or, grant organizations may require one to prove your financial responsibility before providing funding.
Here at Jitasa, we help nonprofits determine if they need an audit, provide assistance preparing for it, and help organizations get the most out of the experience. With our ample experience in the field, we decided to put together this guide to help professionals in the sector gain a basic understanding of the nonprofit auditing process. We'll cover the following topics:
Nonprofit audits may seem scary, but they can actually be quite helpful! You'll be able to identify opportunities to improve your organization's internal controls, financial practices, and more.
1. To Audit or Not to Audit
It's not often that small to mid-sized organizations are required to conduct a nonprofit audit. And, luckily, the reasons you may be required to do so are fairly straightforward. When you're deciding whether or not to conduct an audit at your organization, you should check:
Your bylaws. At the onset of opening the doors to your organization, one of the founders may have written it into your bylaws that regular nonprofit audits should be conducted in order to ensure financial security and transparency.
State requirements. You may be required to conduct a nonprofit audit depending on the state you operate in and dollars received. Nonprofits that spend or earn more than a certain amount (usually around $500,000) may be required to complete a financial audit.
Your federal funding. Organizations that receive more than $750,000 in federal funding or federal funding passed through the state are required to have an audit.
Grant application requirements. Some grant funders require nonprofits to conduct audits to ensure their financial systems are trustworthy, transparent, and well-managed. Even if granting institutions don't require an audit, they may require other proof of financial management before they're willing to provide funding.
These options all describe circumstances in which you may be required to conduct an audit. If you find that you're not required to conduct an audit, that doesn't mean you're off the hook!
You'll still want to practice financial responsibility and accountability by carefully reviewing your financial statements or hiring a nonprofit accountant to do it for you. Internal review procedures and internal audits will help protect your nonprofit from scams, overspending, and other financial missteps you may encounter.
Even if you think you're doing everything right, it can still be worth conducting a nonprofit audit. There are plenty of benefits that result from conducting one.
The Purpose of Nonprofit Auditing
The purpose of a nonprofit audit, according to The Alliance for Nonprofit Management is, "for testing the accuracy and completeness of [the] information presented in an organization's financial statements. This testing process enables an independent certified public accountant (CPA) to issue what is referred to as an opinion on how fairly the agency's financial statements represent its financial position and whether they comply with generally accepted accounting principles (GAAP)."
Nonprofits who may not be required to conduct an audit may still consider doing so in order to make sure their financial records and internal controls are up-to-par and to find potential opportunities for improvement.
The benefits you'll encounter when you conduct an audit include:
Increased transparency. You may decide to communicate that a nonprofit audit took place and even the improvements that you're making as a result of this deep financial analysis with your supporters. This way they'll know that you take your funding and your financial management seriously and will effectively protect and use their contributions.
Regular accountability. If you conduct a financial audit regularly (whether that's every year, two years, or even five), you'll find that you're held accountable to the same high standards of controls and financial reporting over time. Even as your organization changes and expands, you'll be confident that your finances are always secure and well-allocated.
Find opportunities for improvement. Your nonprofit audit may not be perfect, and that's ok! One of the great things about auditing is that it can help identify opportunities for your organization to improve upon its policies and procedures.
In addition to all of the inherent benefits of conducting a nonprofit financial audit, there are also charity watchdogs who provide information about charities to potential donors. These watchdogs may rank your organization higher if you've conducted an audit. This also increases the element of transparency with your supporters who do their research before contributing, assuring them that you're a trustworthy organization.
2. Types of Nonprofit Audits
The term "audit" can refer to several different things. Generally, it's discussed in a financial sense, but audits can refer to internal analysis of operations, external parties reviewing your finances, the analysis of your adherence to compliance requirements, and more. Therefore, it's essential to understand the types of nonprofit audits.
External Audit
External audits are our recommendation to ensure your organization has effective internal controls and financial practices. These nonprofit audits are conducted by third-party organizations and individuals, providing an outsider's perspective of your organization. The experts at Jitasa can help your nonprofit find an auditor to review your various financial statements and documents to determine the best course of action forward.
Internal Audit
Internal audits are conducted by your organization's management team. The purpose is to discover opportunities for improvement and determine if there are better ways to do things than how they're currently being done. Essentially, internal nonprofit audits allow your organization to take a step back from everyday tasks and determine the best course of action to move the nonprofit forward.
Financial Audit
During these audits, your auditor will review your organization's various financial statements and reporting to determine opportunities that will help improve the financial health of your organization. They'll also examine your internal controls to ensure the security of your finances.
Compliance Audit
It's important to remember that financial audits are not the only types of audits you may encounter. Compliance audits review your organization's adherence to regulations and requirements set by the federal, state, and local governing entities as well as your bylaws and other compliance requirements.
Operational Audit
Operational audits assess your organization's operation systems, productivity, staffing, IT, HR, and other functions. This type of nonprofit audit can provide insight into why your organization is hitting or missing your goals and how to create a more efficient and effective organization.
For the purpose of this article, we'll primarily focus on external financial audits and how your organization can find an auditor, prepare your documentation, and determine your overall financial health.
3. Nonprofit Financial Audit Timeline
The timing of your nonprofit audit heavily depends on the requirements of the organization to which you're submitting the results. This should be the first place you look to see when it should be conducted.
Straightforward deadlines for audit completion are easy for nonprofit professionals to understand. However, what is less understood is the amount of time necessary to prepare, conduct, and incorporate recommended adjustments that come out of the audit process. This can put pressure on the date by which you will want to begin the audit process in order to meet your deadlines.
The timeline below is an example of the potential time that your organization can expect to spend on various activities.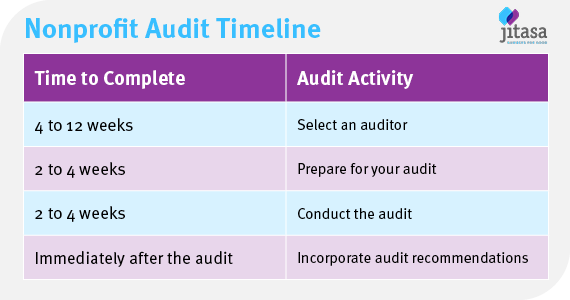 4-12 weeks: Select an auditor
2-4 weeks: Prepare for your audit
2-4 weeks: Conduct the audit
Immediately after the audit: Incorporate audit recommendations
One industry best practice is to make sure your audit is completed before you file your Form 990. Nonprofits need to incorporate the adjustments they make as a result of the audit on their Form 990. Here at Jitasa, we file our clients' Form 990s after they've completed their financial audit.
If it doesn't look like the audit will be completed before the Form 990 is due, we'll file a Form 8868 with the IRS to request an extension for the Form 990 on behalf of the client to make sure this vital audit information can be included.
4. Selecting a Nonprofit Auditing Firm
If your organization has decided to (or is required to) conduct a financial audit, you'll need to choose an auditing firm that will best suit your needs. You shouldn't just pick the first auditing firm that you come across. This selection process is very important for your nonprofit to get the most out of the financial audit.
The stages that you'll go through during the auditing firm selection process include: conducting initial research, narrowing your selection, sending an RFP, making a final decision.
Initial Research
To start your research, you may choose to conduct an initial Google search, ask your accounting firm for recommendations, or collect referrals from other nonprofits. This initial list can be as long as you feel is necessary. The next step will describe the process by which you can narrow your selections according to your organization's needs and budget.
Narrow Your Selection
Once you've got your initial list of potential auditing firms, search the firm's website or set up a call to ask them a few questions, digging deeper into their services. Some of the questions you'll want answers to include:
What percentage of the clients are nonprofits? Nonprofit finances differ dramatically from those of for-profits. Therefore, their auditing process also looks different. Make sure that the auditing firm you choose has an extensive background working with nonprofit organizations so that they can fulfill the specific requirements for 501(c)(3) organizations.
How long will the nonprofit auditing process take? Can they give you deadlines for each of the activities? This is important to make sure that your organization can meet the deadlines for the audit itself. The last thing you want is for your auditing firm to miss a deadline and make your audit late.
What is the fee structure? The fee structure of the auditing firm should be consistent with the scope of the audit activities required. Ask about the fee structure and see if firms will provide you with a quote.
The best way to compare the scope and price of different firms is to go through a formal RFP process with your shortlist of firms. We'll cover that more in-depth next.
Provide an RFP
A formal request for proposal (RFP) helps your organization compare your shortlist of auditing firms. This document allows you to request information about the firm and provide information about your organization to see if a partnership with a specific firm will be a good fit for you both. When you put together your RFP for a nonprofit auditing firm, ask for items such as:
A description of the firm
Information on who will be working with your nonprofit to complete the audit
An explanation of what sets that firm apart from other nonprofit auditing firms
A statement of the work that will be performed by the firm
The structure of the fees
A list of references (other organizations that have worked with the firm)
With an effective RFP, your organization will be able to decide if a firm is truly a good fit for your needs and budget. Call their references and double-check that they have a positive track record with past clients before you make your final choice.
Make a Final Decision
Congrats! You've decided who you'll be working with for your nonprofit financial audit. You've put in the work and the research necessary to be sure you're working with a reliable firm that understands your organization's needs. You know what you'll be receiving from them and can rest assured that everything is taken care of.
Now, you can start preparing for the audit.
5. Nonprofit Audit Prep Work
You'll need to do some preparation before your nonprofit audit can take place. Usually, auditors will send a PCB (Pull by Client) list that tells your organization what information the auditor will be requesting.
Provided by Client (PBC) List Template
The provided by client list for a nonprofit audit can serve as the foundation that organizations can use to ensure that their financial practices are transparent, accurate, and compliant.
Free Download
This means you'll need to pull together some documentation and reports that your auditor will be using during the auditing process. Having these ready to go will help them analyze these documents quickly and find actionable information for improvements.
As you finish up the fiscal year, your organization should be sure that all of your bookkeeping and accounting activities are accomplished before you close up the books. Make sure that your organization does the following: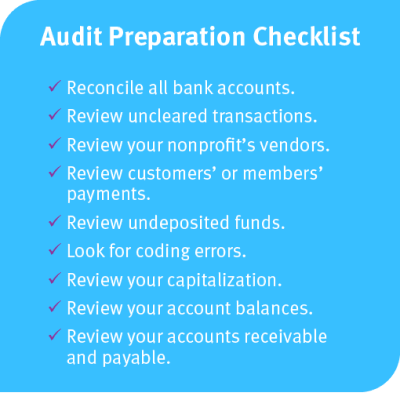 Reconcile all bank accounts. It's recommended that you reconcile your bank accounts on a monthly basis. Reconciling accounts on a regular basis ensures errors are identified and can be attributed to a specific timeframe. Otherwise, errors may accumulate and make future reconciliations more challenging.
Review uncleared transactions. If transactions have not cleared, your organization should be aware of it before bank reconciliations. Addressing uncleared transactions will ensure you have an accurate understanding of your cash balance in your financial statements. Plus, it will allow you to follow up about these transactions.
Review your nonprofit's vendors. You should never have several vendors with negative or zero balances. Ensure your organization is effectively applying for vendor credits and review your accounts payable for vendors and your vendor lists to remove any inactive ones.
Review your customers' or members' payments. If your organization relies on service fees or membership dues to operate, you should make sure there aren't too many outstanding payments or individuals with negative or zero balances. If there are a lot of negative or zero balances, you should check to ensure receivables are properly applied and correctly recorded.
Review undeposited funds. Large amounts of undeposited funds make it challenging to maximize your cash availability. Depositing cash in a timely manner is essential to improve cash flow and it reduces the risk of theft or misappropriation of funds.
Look for coding errors. Duplicate entries, entries missing information, and entries with incorrect information can all make a mess of your organization's accounting statements and reports. Address any discrepancies or errors right away to provide a clear picture of your organization's finances.
Review your capitalization. Nonprofits need to categorize material and immaterial assets properly. It's important to comb through these assets periodically to ensure updated records. Plus, keeping past immaterial assets that no longer exist creates additional recordkeeping work for your team.
Review your account balances. Account balances should accurately reflect the amounts designated in your nonprofit's various records and financial statements. This accuracy allows users of nonprofit financial statements an additional level of clarity in decision-making processes.
Review your accounts receivable and payable. If many payables and receivables have not cleared in the past 90 days, you should immediately review these issues. This will help you determine any cash obligations, potential vendor disputes, and overall cash management strategies.
As you're going through this year-end financial data, keep in mind that if you find discrepancies, your auditor will also likely find the same ones. Do some work ahead of time to figure out what might be off. Assemble supporting documents for balance sheets, as well as clear and accurate records for payments, etc., which help prove that you're adhering to organizational policy.
If you've had an audit before, you might already have access to a past Pulled by Client (PBC) list of items that your auditor will need from you. If you're new to the audit process, you can request one of these documents from your auditing firm so that you can prepare the information your auditor needs.
PBCs can be anywhere between 40 and 120 items depending on the scope of the nonprofit audit and the complexity of your organization. Some of the items that are likely to be listed on your PBC include:
Copies of bank reconciliations
Bank statements
Investment statements
Schedule of prepaid items
Invoices that have not yet been paid
Schedule of accrued wages and vacation
Details of grants received
Details of fundraising contributions received
Payroll information
The best thing your organization can do (if you know you'll need a nonprofit financial audit) is to keep these items in mind throughout the year. You can keep your data organized and ready to pull into these reports. This way you'll be able to pull them quickly and easily when it's time to prepare for your upcoming audit.
6. After Your Nonprofit Audit
After your nonprofit audit is complete, the auditor will create a "letter to management," also known as the "management letter" which outlines the recommendations the auditor has for the organization to incorporate into their activities and processes.
The management letter contains two parts: material internal control issues and operating inefficiencies. The material internal control issues outline the processes and procedures that need to be adjusted to ensure proper recording of financial information in the future. Meanwhile, operating inefficiencies are more like red flags that indicate potential issues that could arise.
After your audit committee has reviewed the management letter, they should have a discussion with the auditor to gain more information about the audit process and results. In this discussion, the committee may ask questions like:
Were internal controls for financial reporting adequate?
Could you expand on the most material recommendations from the audit?
Are there any legal or regulatory issues that may impact our finances?
Did you find the management team cooperative?
Are there any items that could be disputed by the IRS?
Did management follow suggestions from past audits?
How does our nonprofit compare with other organizations?
Did you find anything that needs to be brought to the attention of the board?
Do you have further suggestions about ways to improve accounting, reporting, and operating procedures?
The auditor isn't the only one owed a conversation by your team after the audit is complete. You'll also need to start a conversation with your executive director. In this conversation, you might ask questions like:
Are you satisfied with the auditor chosen to conduct the nonprofit financial audit?
Did you notice or hear about any challenges or disputes among staff during the audit?
Was the presence of the auditor disruptive to regular organizational activities?
These discussions can help your committee and organization leaders learn more about the audit itself and prepare for any questions that may arise from the board when you present the management letter to them. You should make sure you have as much information upfront as possible to assure board members that you're taking the audit seriously and determine the next steps coming out of it.
---
Keep in mind that your nonprofit audit isn't an opportunity for the auditor to sit back and accuse your organization of doing things incorrectly. Rather, it's an opportunity to learn about how your organization can continue to improve its processes. These improvements may be simple actions that amplify to create a major impact, or they may be more complex changes that will take hard work and focus.
Either way, the purpose of conducting the nonprofit audit is to help your organization. Your auditor is in your corner to help you improve.
However, nonprofit audits aren't the only way to improve your finances. The more you learn about them, the better you can strategize and enhance your operations. So, continue your research! We recommend continuing your reading with the following resources: