CARES Act for Nonprofits | The Essential Guide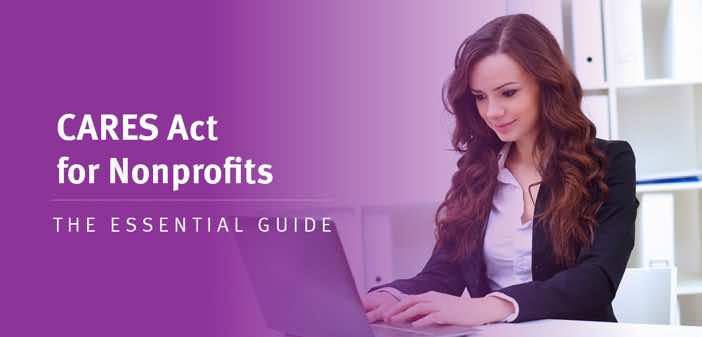 COVID-19 has impacted at least one aspect of everyone's day-to-day life. Maybe you're working from home now. Maybe your kids are out of school so you're teaching them from the living room table. From making homemade masks to planning at-home date nights, our lives have changed as we react to the virus's spread.
First and foremost, Coronavirus is a humanitarian crisis. The CDC guidelines are being referenced by individuals all over the country to try to stop the spread of the virus. We highly recommend and encourage this safe and positive behavior to help keep others and yourselves healthy during these tough times.
Secondly, COVID-19 has caused an economic crisis. Record numbers of individuals (more than 10 million) have applied for unemployment and government aid due to job loss or a pause on their income. The government recognized the trouble that this would cause and therefore passed the CARES Act to help ease this impact.
What is the CARES Act and what does it mean for nonprofits?
The CARES Act was passed in direct response to the Coronavirus outbreak in the United States. The acronym CARES stands for Coronavirus Aid, Relief, and Economic Security. The intention of the Act is to provide financial relief for individuals and organizations during this economic crisis.
Included in the Act were provisions providing an additional $600 per week in unemployment recipients, employer payroll tax credits, recovery rebates for individuals, and more.
Specifically, as a nonprofit organization, the sections of the act you should pay the closest attention to are the Paycheck Protection Program and the Economic Injury Disaster Loans.
These two aspects of the bill will have the largest and most immediate impact on your nonprofit.
Paycheck Protection Program: The PPP was included in theCARES Act because so many people are filing for unemployment benefits. This aspect of the CARES Act provides loans to small businesses and nonprofits to help them keep employes on their payroll.
Economic Injury Disaster Loans: The Small Business Administration (SBA) provides disaster loans to help repair the economic injury inflicted on private small businesses or nonprofit organizations. These loans are designed to help organizations meet their necessary financial obligations.
In the time that these two programs have been made available to small businesses and nonprofits, the loans were distributed quickly as many applied for the benefits until funding was depleted. However, this doesn't mean that your organization shouldn't apply!
Nonprofits who haven't yet applied for these programs, but were planning to do so, should get their applications filed as soon as they can so that when funding becomes available, they'll be first in line for an e-ticket number to receive these loans.
Let's dive a little deeper into these two aspects of the CARES Act for nonprofits and how to make the best use of these resources in this time of economic instability.
Talk to a certified CPA about your loan options for free.
CARES Act for Nonprofits: Paycheck Protection Program
One highlight of the CARES Act for nonprofits is the Paycheck Protection Program. This program is designed to encourage organizations to keep employees on their payroll throughout this difficult time.
The PPP makes loans available to cover 8 weeks of payroll, rent, mortgage interest, and utility costs for eligible organizations.
These loans are designed to be used for payroll and employee healthcare benefits. But your nonprofit can also use the funds for necessary expenses such as interest on mortgage obligations, rent, and utilities.
Is your nonprofit eligible for a PPP loan?
Your nonprofit is eligible to participate in the Paycheck Protection Program if:
Your organization was in existence on or before March 1, 2020.
Your organization is a registered 501(c)(3) or tax-exempt as a 501(c)(19) organization.
Your nonprofit employs 500 or fewer full-time and/or part-time employees.
If your nonprofit meets these eligibility standards, congratulations! You can apply to receive benefits from the Paycheck Protection Program.
What would your nonprofit receive as a part of the program?
The Paycheck Protection Program allows organizations to receive up to 250% of average monthly payroll costs. Much of this will be eligible for forgiveness if the program guidelines are followed.
These loans are capped at $10,000,000 and compensation of an annual salary exceeding $100,000 for individuals is not included in the maximum loan calculation. You also can't use these loans for employee compensation or benefits already covered by the Families First Coronavirus Response Act.
Take a look at your budget in order to determine where a loan from the CARES Act for nonprofits would fit into and help benefit expenses.
In order to calculate your maximum loan amount, you'll need to know your total payroll expenses including:
Salary, wages, commission, or other standard financial compensation
Paid vacation time, sick leave, parental leave, family leave, and other paid leave time
Allowance for separation or dismissal
Healthcare benefits and insurance costs
Retirement benefits
State or local taxes associated with the compensation of employees
Make sure to also keep in mind the items that are not included in this calculation of payroll expenses. For instance, you should not calculate:
Compensation of an annual cash salary greater than $100,000
Taxes withheld through FICA, the Railroad Retirement tax, or payroll taxes associated with chapter 24 of the tax code
Compensation of employees who primarily live out of the country
Paid sick and family time already covered by Families First Coronavirus Response Act
Seasonal workers should be calculated slightly differently than annual employees. You'll need to specifically calculate seasonal wages by looking at the payroll costs from March 1st through June 30th from 2019. These are the expenses that will be used to calculate your loan amount for these employees.
Once you've collected all of this information, you can use it to estimate your maximum loan amount using calculators like this one for non-seasonal employees and this one for seasonal employees, both offered by Jitasa.
What about interest and loan forgiveness?
Forgiveness is offered for these loans! You'll need to apply for loan forgiveness for the PPP loans, proving that you did, indeed, pay for employees' compensation, mortgage interest rates, utility bills, etc. with the loan funding. Within 60 days of applying for loan forgiveness, you'll be notified of the decision about how much forgiveness you're qualified for.
However, this forgiveness can be reduced if your nonprofit doesn't follow the guidelines about the loan itself. For instance, your forgiveness may be reduced if:
You use the loans for anything other than approved payroll expenses.
There's a reduction in the number of employees compared to the previous year.
You reduce the compensation of employees by over 25% compared to the previous year.
You fail to restore your full-time employment numbers by June 30, 2020.
If you don't qualify for full forgiveness on the loan, the interest rate is 1%. Prepayment penalties for these loans are waived. Plus, the CARES Act stipulates that these loans are deferred for the first six months.
All of the payments on your loan will be due within 2 years. However, you can (and are encouraged to) pay off these loans sooner than that.
We recommend that your nonprofit do everything in its power to maximize forgiveness of these loans to avoid being in debt after the Coronavirus pandemic smooths over.
If you're looking to learn more specifically about the Paycheck Protection Program as a part of the CARES Act for nonprofits, check out our guide or talk to one of Jitasa's Paycheck Protection Program Task Force Experts for free.
CARES Act for Nonprofits: Emergency Economic Injury Disaster Loans and Grants
The second important part of the CARES Act for nonprofits is the Economic Injury Disaster Loans (EIDLs). While these loans were available before the Coronavirus pandemic, they were only eligible to small businesses or nonprofits who were considered to be in an official disaster area and have exhausted other funding sources.
Nowadays, the entire country has been deemed a disaster area, so small businesses and nonprofits all over the country are eligible for the loans. These loans can be as large as $2 million and can be used for a number of operational costs including payroll, rent, mortgages, utilities, and more.
In response to COVID-19, EIDL grants are also available as an emergency, short-term funding opportunity.
On your EIDL application, you can request immediate financial assistance of an amount up to $10,000 in the form of an EIDL grant that will be paid in advance.
Let's talk more about EIDL Loans.
EIDL loans, on the surface, look very similar to the PPP loans. In order to qualify, your nonprofit must have fewer than 500 employees, can't be involved in certain activities (think: illegal, gambling, and lobbying), and must be considered a private nonprofit (charities, trade associations, faith-based organizations, and more).
While the maximum loan amount is $2 million, the exact amount is calculated by considering the actual economic injury COVID-19 has caused for your nonprofit.
There are some restrictions regarding these funds from EIDL loans. For instance, you can't pay off pre-existing debts or pay dividends. You also can't use these funds to pay for qualified sick and family leave wages if you're already taking the tax credit for them under the Families First Coronavirus Response Act.
In most states, this program is available as long as your nonprofit organization applies before December 16, 2020.
Let's talk more about EIDL Grants.
When your nonprofit applies for an EIDL loan, you can also request an immediate grant of up to $10,000 to help hold the organization over until you receive your full loan amount. While the CARES Act stipulates that the immediate grant will be distributed to your nonprofit within 3 days, the actual amount of time before the $10,000 is approved is currently unknown.
The actual amount of this immediate emergency grant is determined by the number of employees you have on your nonprofit's payroll. You can receive $1,000 per employee. For example, if your nonprofit has 7 employees, you can receive an immediate grant amount of $7,000.
Is there forgiveness for EIDL loans, too?
The short answer is: no. EIDL loans must be paid back. However, the immediate EIDL grant amount of up to $10,000 is forgiven and does not need to be repaid. It can become part of your Paycheck Protection Program Loan, but it will not be free money.
Let's break that down a little:
When your nonprofit organization first applies for an EIDL loan, you can check a box at the bottom of the application asking for immediate assistance through an expedited loan advance of up to $10,000 (or, the EIDL grant).
This expedited amount will not need to be repaid. However, if you've applied for both the EIDL loans and the PPP, this amount will be deducted from your PPP forgiveness. Therefore, you'll need to pay it back if you've used both programs.
Meanwhile, your EIDL loan amount will come a little later. This is the loan amount based on your nonprofit's actual economic injury (maximum of $2 million). These loans do need to be paid back.
EIDL loans have an interest rate of 2.75% for nonprofit organizations and 3.75% for small businesses. The loan term can stretch as long as 30 years.
If you're looking to apply for an EIDL loan, you can find the application here.
What's the difference between EIDL and PPP financial relief?
The EIDL and PPP financial relief programs have several similarities in that they are both designed to help nonprofits and small businesses cover payroll and operational expenses during this uncertain time.
However, as your nonprofit is trying to determine the programs that best help maintain your budget, you should know the differences between the programs. These differences include:
Loan size. PPP loans are intended to cover 8 weeks of payroll expenses for your nonprofit. Meanwhile, EIDL loans are intended to cover closer to 6 months of these types of expenses.
Forgiveness. PPP loans have the ability to be completely forgiven if your nonprofit maintains certain standards and regulations. Meanwhile, EIDL loans must be paid back and the advance on these loans is deducted from PPP forgiveness.
Loan use. These loans can be used for the same type of expenses. But, if you apply for both, you cannot use the loans for the same expenses. For example, if you use your PPP loans for payroll, you can't also use your EIDL loans for payroll.
While these two aspects of financial relief for nonprofits from the CARES Act are fairly similar, it's important to understand your specific organization's needs during this time of economic crisis. From there, you can apply for the program(s) that will best help you get through these difficult times.
Talk to a professional about your CARES Act loan options.
Your nonprofit should be sure to talk to a professional when it comes to the CARES Act options offered. In some cases, it might be better to avoid the long-term debt associated with the EIDL loans. However, in other cases, the PPP loans will help, but won't provide everything your nonprofit needs to get through these difficult times.
Talking to an accounting professional can help your nonprofit best determine what your needs are and how to fulfill those needs going forward. Be sure to choose a professional organization dedicated to maintaining full services and helping nonprofits get through these troubling times.
Jitasa is offering 15 or 30-minute sessions with nonprofits for free so that you can discuss your options regarding the types of loans that will best suit your individual needs.
What does Jitasa recommend?
For nonprofits who have applied for the PPP or EIDL loans, but have not yet received funding:
Check back in with your bank. Be sure they're ready to submit your information as soon as funding is made available again.
For nonprofits who have applied for and received loans:
Do your best to maximize your forgiveness for the PPP by:
Only using the loans for approved expenses
Keep everyone on staff and working (try not to let anyone go)
Don't reduce employee compensation by more than 25%
Also, understand that the EIDL loans must be paid back. You won't receive loan forgiveness for funding through this program. Keep track of how much money came from each program so that you have a better understanding of what your organization will need to pay back.
For nonprofits who have not yet applied, but plan to apply for loans:
Don't let the lack of funding in the programs keep you from applying. The loans are first come, first serve. Applying now and asking your bank to submit the loan request when money is made available again will put your name closer to the front of the line of those requesting funds.

Schedule a free consultation with a Jitasa CPA to learn more about the CARES Act and financial options for your nonprofit.
Learn More

Jitasa's bookkeeping and accounting services are affordable and cater to every nonprofit.
Learn More