Whistleblowing & Your Nonprofit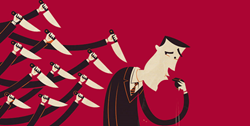 The importance of a whistleblower policy cannot be emphasized enough. No employee should fear reprisal, firing, or violence when working to correct the wrongdoings of their employer.
If an employee knows of illegal activities or organizational wrongdoings taking place, they should feel encouraged to report any misbehavior, saving your organization from the illegal practices, fraud, and bad publicity that could occur. Below we'll explain the importance of enacting a whistleblower policy, and provide links to resources that will help you create and maintain one.

Why a whistleblower policy is important
Whistleblower policies heighten your organization's accountability to the public, and more importantly your donors. By viewing your
IRS Form 990
(Item 13 of Section B: Policies), donors discover very quickly if you have policies in place that protect your employees and encourage transparency within your organization.
The Council of Nonprofits
reiterates this idea by stating that maintaining a whistleblower policy "is practicing sound governance and exercising prudent risk management…your organization will only be in a position to correct a situation if it becomes aware of the problem." While Scott Harshbarger and Amy Crafts of
The Nonprofit Quarterly
state that, "[Nonprofit] organizations can use these tools to identify problems and successes in the workplace, workforce, and leadership early on. With these mechanisms in place, intervention and prevention methods can strengthen and support a workplace culture of integrity, openness, transparency, and, above all, two-way communication."
Having such policies in place goes beyond reassuring your donors. An employee should never fear the consequences of reporting those activities.
Tim Barnett
, Assistant Professor of Management at Louisiana Tech University states that a whistleblowers policy will "protect the board, volunteers, and employees from retaliation if they report wrongdoings."

The history of whistleblowing
Barnett goes on to state "Whatever your personal view of whistleblowers and whistleblowing, as an organizational policy-maker you must consider the issue objectively…due to the possible negative consequences for both your employees and your organization."
His article "Why your company should have a whistleblowing policy"
goes on to state some interesting whistleblowing statistics. He explains, "A recent review of whistleblowing incidents shows that…[51%] percent of the incidents resulted in external investigations of the companies involved, 37% in management shake-ups, 22% in criminal investigations, and 11% in [indictments]." These statistics reflect the necessity of a whistleblower's policy. If this illegal misbehavior where allowed to continue, it could have drastic results to the health and well being of your organization.
Formerly, employees who witnessed illegal activity at work had little to no recourse to report their employers. Whistleblowing was accompanied by the dread of losing a source of income, public backlash, and a fear for personal safety, such fears often prevented individuals from reporting illegal activity.

Those that did report illegal activity did so at great risk. Famous whistleblowers include Frank Serpico, William Mark Felt, Jeffrey Wigand, and Karen Silkwood. The latter of which is an example of how blowing the whistle can end in death.

Karen Silkwood
An employee at an Oklahoma power plant in the early seventies, Karen Silkwood died in a head on collision hours before blowing the whistle on the plant's illegal activity. According to Biography.com on her way to "deliver a manila folder full of alleged health and safety violations [committed by the Cimarron River Nuclear Facility] to a…New York Times reporter and national union representative…her car went off the road, skidded for a hundred yards, hit a guardrail, and plunged off the embankment. Silkwood was killed in the crash, and the manila folder was not found at the scene… Nor has it come to light since." In addition to the fatal crash, Silkwood also suffered radiation poisoning in the weeks prior to her death. Her autopsy determined that the poisoning could not have occurred at the plant itself. It doesn't take a conspiracy theorist to surmise that she was silenced for what she knew.


After her death, The Cimarron River Nuclear Facility was found to have had more than "17 safety lapses—in which 73 employees were contaminated" It is also stated, in this case by
NNDB,
that Silkwood discovered and "reported hairline cracks in the nuclear fuel rods — defects which could cause a nuclear accident--[and] that the evidence had been altered, allowing the imperfect rods to pass inspection."

Altering the law

Silkwood and whistleblowers like her have been responsible for altering the governance of corporate America. Since they've come forward, laws have been enacted that protect employees from their employers.
In 2002, The American Competitiveness and Corporate Accountability Act, (also known as
The Sarbanes-Oxley Act
) was enacted by Congress. This law includes provisions that apply to nonprofit organizations. Hurwit & Associates explains that, "Under Section 1107 [of the law], it is a felony to retaliate against an individual for providing law enforcement authorities with truthful information relating to the commission, or possible commission, of any federal offense." They helpfully break the legal verbiage into plain English stating, "In the nonprofit context, this might involve, for example, the termination of a CFO or other employee for reporting information to the IRS revealing a charity's failure to comply with its tax reporting obligations. Violations of this section are punishable by fines or imprisonment up to ten years."

In addition, according to OSHA, Federal law now provides "protection from discrimination" for all employees, this "means that an employer cannot retaliate by taking 'adverse action' against workers, such as firing or laying off, blacklisting, demoting, denying overtime or promotions, disciplining, denial of benefits, failure to hire/rehire, intimidation, threats, or reducing hours or pay."

Does your nonprofit need a whistleblowing policy?
The answer is unequivocally yes.
The Council of Nonprofits
states "Your nonprofit is practicing sound governance and exercising prudent risk management if you have a written policy… having a policy that encourages people to report their concerns without fear of retaliation is critical to good governance."
While Bober Markey Fedorovich points out that, "savvy nonprofits are using Form 990 to demonstrate responsible stewardship and sound policy to an increasingly skeptical public."

We couldn't agree with them more. Prove to the public and potential donors that you operate a well governed and legally sound organization by enacting a whistleblowing policy. Below are some links to get you started.

Get Started

When you find a policy that suites your organization, meet with your board of directors to ensure everyone is in agreement. Review the chosen policy annually to ensure it still meets your needs. Once you and your board have signed and enacted a policy, train current and future employees on how to report illegal activities. For great information on implementing employee training visit:

UCSC Whistleblower Training for Supervisors and Managers

See what how famous whistleblowers have halted corporate corruption.
Frank Serpico
William Mark Felt
Jeffrey Wigand
Karen Silkwood
Visit the links we found helpful in writing this article
Barnett, Tim.

"Why Your Company Should Have A Whistleblowing Policy."

Sam Advanced Management Journal

Autumn (1992): 37-42. Web. 16 April 2014.

Bolotnick, Tracey.

"Sarbanes-Oxley and Nonprofit Organizations."

Hurwit & Associates

Web. 16 April 2014.




Harshbarger, Scott and Crafts, Amy.

"The Whistle-blower: Policy Challenges For Nonprofits."

Nonprofit Quarterly

21 December 2007. Web. 16 April 2014.

"Karen Silkwood." 2014. Biography.com. Apr 16 2014.


Occupational Safety & Health Administration.

The Whistleblower Protection Programs.

United States Department of Labor. 16 April 2014.

Soylent Communications.

"Karen Silkwood."

NNDB 2014. Web. 16 April 2014.

"Whistleblower Policy: Three Reasons You Should Have One." Bober Markey Fedorovich

Summer (2009) Web. 16 April 2014.

"Whistleblower Protection Policies."

National Council of Nonprofits Web. 16 April 2014.

Image from University of Nebraska-Lincoln
Renata Poe Massie, Content Creator for Jitasa

Jitasa's bookkeeping and accounting services are affordable and cater to every nonprofit.
Learn More