What are the chances my nonprofit gets audited by the IRS?
Here is a good post from our friends at Blue Avocado. http://www.blueavocado.org/node/718 It carries the scary title "I Survived an IRS audit." However, as with most things in life, if you are doing nothing wrong you have nothing to hide. The only reason to fear an IRS audit is if you are doing something inappropriate. Granted, I suppose you can fear the time it will take. And I suppose the fear that they will find an inadvertent honest mistake is a concern. But largely I believe the IRS is looking for systematic fraud or pure chicanary.
You should also know that according to "Every Nonprofits' Tax Guide" by Stephen Fishman, only 0.8% of nonprofits are audited. The IRS audits about 8,000 / year. So chances are, you have very little to be worried about.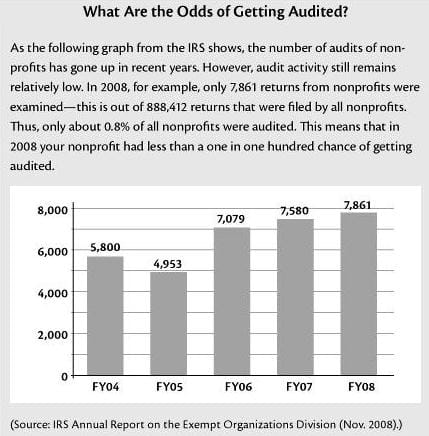 In the sector, we should be glad that the IRS helps us police the groups that give us all bad names. Those bad apples need to be removed.

Jitasa's bookkeeping and accounting services are affordable and cater to every nonprofit.
Learn More