Volunteering for Change
The sign outside our office reads "Jitasa, Numbers for good." This slogan, and other pithy one liners also adorn the walls within the office. Slogans like, "number crunchers with a purpose", and "we believe in positive change," they serve as a reminder of who we are.
You may know that our mission is to serve the nonprofit community. We focus on broadening nonprofit outreach and making the world a better place through our nonprofit partnerships. However, you may not know that we make a concentrated effort to connect with our community. Our name means the "Spirit of Serving Others," and we try to embody that meaning every day. In the spirit of our name and to help our community, we offer employees 40 hours a year of paid volunteer time off.
We're not picky about how that time is used, as long as our employees go out into the community or the world and do good. This year our employees have logged over 360 volunteer service hours. They serve on boards, interact with classrooms, coach youth soccer, and travel on hip cruises to further change abroad. Giving their time to causes they believe in and doing their part to improve our world.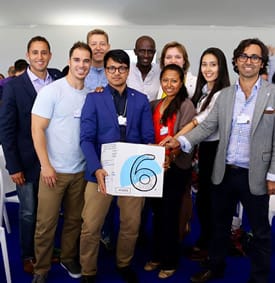 Their experiences also alter their viewpoint on the world and its future. Last year, Director of Business Development, Jon Osterburg participated in a Global Shapers Impact Conference in Geneva and had this to say about his time there, "What was extremely unique about this experience was not just the beauty of individual community insights, but the natural flow and rapport that this group developed with one another instantly. As I looked around the room at the end of the four day event I knew that it wasn't just our tribe number six that had developed this rapport, each of the other thirty nine tribes had also developed synergy with one another. I have never been more certain about the future of humanity than I was at that moment. The young leaders of the millennial generation are here to create positive and disruptive impact."
It is positive experiences like these that lead to happy employees that turn into business thought leaders. One of the many reasons we offer a VTO policy.
Want to join the team?
We're always looking for great new team members, to find out about the other perks we offer visit our careers page.

Jitasa's bookkeeping and accounting services are affordable and cater to every nonprofit.
Learn More