Shopping for good blog
The holidays are such a special time of year…celebrating family, love, and another year gone by. What better way to show love to those close to you, than to buy items that give twice. Below is a list of companies passionate about giving back, sustainability, and supporting the arts. Give a gift that gives back this holiday season.
Unique artesian made items with a commitment to fair trade, Accompany offers stunning selections of apparel, accessories, and bags. They "scour the globe for the coolest, most beautiful and one-of-a-kind finds, and filter them through a range of style lenses— to create unique boutiques that contain both an eclectic mix of cultures and a well-edited point of view." Perfect for the person in your life that likes what they own to tell its own story.
Don't miss:
Their gorgeous selection of handbags, including woven, leather, and vegan friendly options.
Their thoughtfully curated gifts for everyone on your list.
Their opulent home goods that will heighten the style of any room.

---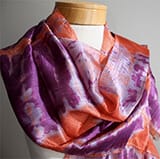 Their tag line is "celebrating the artistry of human nature", and you can see it in the beautiful variances to their products. You'll find intricate and thoughtfully created jewelry, scarves that billow like vibrant clouds, and gifts perfect for the women on your list.
---
Fighting for sustainability by selling "responsible, durable goods" that provide environmental action with each product they sell. Each item sold results in one pound of trash removal from the world's oceans and waterways.
If that isn't reason enough to get you to shop, the stuff they sell happens to be pretty cool as well. Their graphic tees highlight a love of the outdoors, while their apparel is perfect for hiking the mountains or strolling city streets. They have something for everyone:
Stow your goods with bags that look good no matter what you put in it.
Get the man on your list what he really wants with great outdoor apparel, axes and knives, and go to camping gear.
---
Perfect for any music lover, LSTN headphones look chic and sound amazing. Working with the Starkey Hearing Foundation, they use every purchase to help restore hearing to a person in need. Since their creation they have given the gift of sound to over 22,000 people in 9 countries. You'll find artfully crafted pieces that highlight individuality crafted in Beech, Cheery, Ebony, and Zebra woods.
Bonus: You can enjoy up to 70% off on their site right now.

Jitasa's bookkeeping and accounting services are affordable and cater to every nonprofit.
Learn More