Playing Favorites
It's pretty easy to love what you do when you work with such great people. Our clients are changing the world for the better and their missions really resonate with us. We took the time to ask a few of our employees what client mission inspires them the most, and why. We got some great answers, and will be featuring them, along with a brief bio of the client in several blogs to come.
About their organization
Operating since 1977, Lifewater commits to end the global water and sanitation crisis. They do this by building lasting solutions that transform lives through evaluation, education, and new equipment/facilities. They connect with the community to make a lasting change to their way of life. Before establishing a new well or water point, Lifewater engages the local government offices, schools, and churches willing to serve the community through hygiene training and investments in sanitation improvements, ensuring a lasting transformation.
Their past and present programs have impacted over 15 countries in Asia & Africa.
Why we think they're great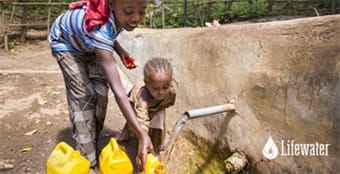 The people at Lifewater are awesome! They go out of their way to make our staff feel like part of their team, and always value our input and opinions. They are doing so much good in the world. Their passion and desire to change the world is so inspiring it's contagious and makes us strive to be better people.
One of the best things about them is the connection they have with their audience. They write a consistent, moving blog and it's great to hear and read the stories of those they're helping. They also post regular updates on the impact they're achieving with beautiful pictures on social media. They give the world the opportunity to see how direct their impact is.
Because International
About their organization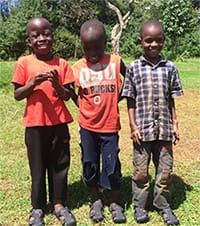 A nonprofit organization since 2009, Because International began on a seemingly simple idea, the fact that feet adjust and grow. Their founder Kenton Lee was inspired during his world travels to create a shoe that would grow and adjust to the wearer's needs. The result was a shoe available in 5 sizes that is durable and adjustable for 5 years of wear.
Since then, they have expanded their organization on the idea of practical compassion. The concept that extreme poverty can be battled through innovation, and that lives can be changed by improving the tools and resources that are used on a daily basis. Their next big innovation involves developing a free standing mosquito bed net to protect children that don't have beds or a ceiling from preventable diseases such as malaria.
Why we think they're great
There is something inspiring about an organization that is making world change happen when they're right down the road from you. Idaho is a small state, and we value communities that make everyone feel connected and included, so seeing an organization that started in our backyard doing so much good is ultra-inspiring.
From their founder Kenton and the passion he exudes to the core values the company holds dear, Because International makes it easy to want to get out and do good in the world. One Jitasian that works closely with the organization said it best, "Because International inspires me to do more and understand that I should never think that I can't make a difference just because of where I live or what I am able to give. They remind me to be thankful for what I have, and help me to know there is more to giving than writing checks and putting change in buckets at Christmas. They inspire me to be creative in my thinking, to be excited about new ideas, and to remember how important unique solutions are."
Renata Poe Massie, Content Creator for Jitasa

Jitasa's bookkeeping and accounting services are affordable and cater to every nonprofit.
Learn More