Playing Favorites: Trailhead Boise and The Riekes Center
It's pretty easy to love what you do when you work with such great people. Our clients are changing the world for the better and their missions really resonate with us. We took the time to ask a few of our employees what client mission inspires them the most, and why. We got some great answers, and will be featuring them, along with a brief bio of the client in several blogs to come.
About their organization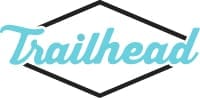 Formed in 2014 with a goal of aiding entrepreneurs in the Boise area, Trailhead helps people start and scale businesses and high impact projects. They offer members the opportunity to find resources and explore new technologies in a casual co-working space. They also provide several excellent workshops a week, many of which are open to the public for free or for a very small fee of 5 bucks. For members, these include office hours with experts from around the valley, such as top notch lawyers and industry thought leaders.
Why we think they're great
They recognize that great companies start as small startups, and those startups will have the ability to alter the world for the better. With this in mind, Trailhead continually works to improve our community by helping individuals build things that impact Boise in a positive way. They work with awesome people who are entrepreneurs, programmers, filmmakers, and non-profit executives, who go out and make ripples of good that turn into waves of greatness for the city, the state, and the country.
Check out their blog for great information and to stay in the loop.
About their organization

The Riekes Center is on a mission to improve the lives of students. They provide students with the best possible opportunities to define and accomplish their individual goals, while also focusing on character building and developing transferable life skills in their programs. Regardless of a student's ability to pay or perform, they celebrate each individual's uniqueness and potential.
Why we think they're great
For one thing, their Director of Operations is super easy to work with. He understands that good things take time, and doesn't get upset about providing extra information. However, more than just making daily life a bit less stressful with their great California attitude, The Riekes Center has a mission and programs that inspire us.
They have many programs geared toward children. These focus on improving the confidence and self-worth of those that participate, helping them develop an awareness of nature, skills in the creative arts, and their physical fitness ability. They also have programs that assist with homeschooling. In addition, The Riekes Center is passionate about helping disabled Veterans as well, providing physical group activities such as rugby and volleyball. Allowing those that have served our country to let loose and have some fun.

Jitasa's bookkeeping and accounting services are affordable and cater to every nonprofit.
Learn More