Playing Favorites: Find Out Why Our Clients Rock
It's pretty easy to love what you do when you work with such great people. Our clients are changing the world for the better and their missions really resonate with us. We took the time to ask a few of our employees what client mission inspires them the most, and why. We got some great answers, and will be featuring them, along with a brief bio of the client in several blogs to come.
Big Brothers Big Sisters of Broward County
About

For more than 100 years, Big Brothers Big Sisters has operated under the belief that inherent in every child is the ability to succeed and thrive in life. Big Brothers Big Sisters makes meaningful, monitored matches between adult volunteers ("Bigs") and children ("Littles"), ages 6 through 18, in communities across the country. They develop positive relationships that have a direct and lasting effect on the lives of young people.
Why we think they're great
With an excellent mission and great attitude, it's pretty easy to enjoy having Big Brothers Big Sisters of Broward County as a client. However, for one employee their mission had a direct impact.
"Without the BBBS I wouldn't be where I am today. I was a "little" from the age of 11, and I still have a close relationship with my "Big Sister." The support I received from my Big helped me in so many ways. She helped me with my school work, but more importantly, she was someone I could trust and rely on. I love that I'm able to help them out now, even in a small way."
Catch (Charitable Assistance to Community's Homeless)
About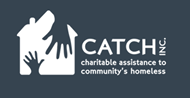 The great people at CATCH are not only our clients, but they happen to be our neighbors in the Linen District of downtown Boise. Their mission is to help homeless families with children get off the street and back on their feet. With programs to help with finances, counseling, job training, and incentive savings programs, they offer new beginnings which lead to self-sufficiency.
Why we think they're great
CATCH helps homeless families, but the impact they have has a far greater social impact. They are working to break the cycle of homelessness. Instead of providing food and temporary shelter night after night, they are empowering families to break out of that endless cycle and become productive, contributing members of society. The children in these families have a chance to grow up warm, fed and educated, thereby reducing the likelihood that they will end up on the streets themselves as adults. Since Jitasa has been working alongside CATCH, they have housed over 200 families and served many more through their vocation rehabilitation services in the Treasure Valley.

Jitasa's bookkeeping and accounting services are affordable and cater to every nonprofit.
Learn More