The Snowball Effect of Payroll Taxes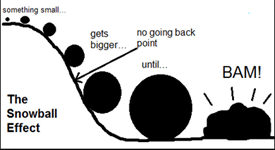 Yesterday, Nonprofit Quarterly released an article titled, "The Worst Financial Decision Ever." Within it, author Kate Barr addressed the avoidance of payroll taxes, and how putting off the IRS can lead you down a very dangerous road.
The article begins with scare tactics, a medium we use frequently here at Jitasa to impart the severity of avoiding a situation. Kate states, "Recently, a member of our staff… met a nonprofit in Minnesota to help them assess their financial situation and create a stabilization plan. The financial situation turned out to be worse than originally reported for one reason: payroll taxes. Specifically, between $50,000 and $100,000 of unpaid taxes withheld from paychecks and due from the employer." She goes on to state that this is not an isolated incident. If you thought she was exaggerating you'd be incorrect, as we've also seen it happen.


Our Scare Tactics

We've even seen it lead to an organization shutting down as a result of payroll taxes. In this situation, the nonprofit had outsourced to a payroll company. The payroll company eventually stopped depositing the payroll taxes that had been withheld from employees; because they were later unable to withdraw these funds due to a banking message of "insufficient funds" (the nonprofit was using the deposited moneys). Since they were unable to complete a portion of their duties for this reason, the payroll company notified the nonprofit that they were now responsible for submitting and filing their own payroll tax deposits and forms.

The mailed notice went unopened and unread. Meanwhile the rest of the books are so chaotic that the board and director don't notice that payroll taxes aren't being paid. All this time, they are accruing penalties and interest from the IRS.


Our accountants discovered the errors and alerted the Executive Director and the Board. Working together we straightened out the issue. The board had to find the funds to pay the IRS and State agencies. The organization had been staying afloat by utilizing the payroll funds they should have never had access to, and as a result the damage had already been done.


But I'm a Nonprofit


Nonprofits are
required
by the IRS to pay federal, state, and local taxes. Employment taxes include:
Federal income tax withholding (FITW),
Social Security and Medicare taxes (FICA), and
State unemployment taxes (SUTA).
Organizations exempt from income tax under section 501 (c)(3) are exempt from Federal Unemployment Tax Act (FUTA).
As an employer, your organization must withhold and deposit the employee's part of the tax as well as pay the matching amount required by your organization.
Form 941
must include amounts from:
Wages paid
Employee earned tips
Withheld Federal income tax
The share of Social Security and Medicare taxes paid by both the employer and the employee
Additional Medicare tax withholdings
Note: Special rules apply to seasonal employers, household employees, and farm employees, see the IRS for details.


Deposit Requirements

Your deposit requirements are not based on how often you make deposits or pay your employees. Instead, your deposit schedule will be determined not only by the size of your organization, but also your total tax liability (the one you reported last year on

Form 941

). Your deposit schedule will either be monthly or semimonthly. The IRS states in

Notice 931

, "These schedules tell you when a deposit is due after a tax liability arises (for example, when you have a payday)."


You should determine at the beginning of your calendar year which schedule you are required by the IRS to use. They state (in the same notice) that you are to use your "lookback period" To determine your schedule. "If you are a Form 941 filer, your deposit schedule for a calendar year is determined from the total taxes reported on Forms 941, line 10, in a 4-quarter lookback period. If you reported $50,000 or less of taxes for the lookback period, you are a monthly schedule depositor; if you reported more than $50,000, you are a semiweekly schedule depositor."


Seems easy enough, and they are nice enough to provide a calendar for 2014 Lookback Periods within the Notice. We've saved you a step and posted it below.

Lookback Period for Calendar Year 2014


Lookback Period
July 1, 2012 Oct. 1, 2012 Jan. 1, 2013 Apr.1, 2013
through through through through
Sep. 30, 2012 Dec. 31, 2012 Mar. 31, 2013 June 30, 2013


What happens if we don't pay?



As we've said before, ignorance is neither bliss nor an excuse with the IRS. Penalties for not depositing your payroll taxes are harsh.
1-5 days late- you'll be charged 2% on the amount you owe
6-15 days late-that'll be 5% on the amount you owe
16 or more days—you'll owe 10% extra
More than 10 days after your FIRST IRS Bill—you'll still owe your payroll tax plus 15%
So let's say you owe a $1,000:
1-5—$20 fee
6-15—$60 to $150 fee
16+-- $100 fee
>10 days after bill--$150 fee
These fees add up very quickly, at minimum:
The IRS can also charge you an additional failure to pay penalty, which is .5% each month that goes unpaid, which increases to 1% after a Notice of Intent to Levy is issued. This fee has a maximum rate of 25% of the amount owed.
If you forget to file altogether you'll be issued a 4.5% tax for each month you don't pay. The maximum fine for this offense is 22.5% of the amount owed.
For more information on fees visit
The IRS

During this time, interest is also accruing on everything you owe. The government can and will come after your organization to seize any back taxes, and can hold any "responsible person" liable, like they did with the board in our scare tactics example.

How Budgeting Can Help
Budgeting for taxes is a great way to ensure you have the funds available to pay when it is time. If you have employees that were with you last year, budgeting for them is pretty simple. Just review the amounts you paid in taxes for them and budget accordingly. If this is the first year you will be paying employment taxes on an employee, you can figure out a rough estimate by looking at the following:
Federal income tax rate (which will vary by employee and is based on income amount and tax filing status)
Social Security of 6.2%
Medicare tax of 1.45%
State unemployment tax rate
Configuring these number based on your employee's wage/salary will provide you with a rough estimate. However, it will be enough to allow you to budget accordingly.
Your Best Defense
Your best defense against this snowball effect is knowledge. Ensure that the Executive Director and your Board are aware of your financial position, that your books are clear and correct, and that those that routinely handle the finances are informed of the very severe consequences imposed by the IRS. Budget against shortfalls and if you're short on funds discuss alternatives with the Executive Director and your Board. As Barr states, "Virtually any alternative—including taking on additional debt, restructuring, downsizing, and filing for bankruptcy—is better than failing to remit withholding taxes to the government." All of which are better than permanently shutting your doors.


Renata Poe Massie, Content Writer for Jitasa

Jitasa's bookkeeping and accounting services are affordable and cater to every nonprofit.
Learn More