Boost Conversions with These Donor-Centric Website Ideas
Your organization's website became the star of the show in 2020, emerging as a primary channel for fundraising, advocacy, and marketing strategies. As we head into 2021 with no return to in-person engagements in the immediate future, it's worthwhile to review your website to ensure it's designed to drive high engagement and donation conversions going forward.
Your site's conversion rate is the percentage of supporters who visit a specific page on your website and complete a desired action after doing so, whether by signing up for a virtual event or by making a donation. To increase your conversion rate, you need to design the site in a way that's intuitive for your target user.
In this guide, we're going to focus on your conversion rate as it relates to donations, as effectively raising donations through your nonprofit's website is going to be key to furthering your mission in 2021. To increase your website's donation conversion rate, you'll need to design your site in a donor-centric way.
Drawing ideas from the best nonprofit websites, consider the following ideas to design your website in a donor-centric manner that drives higher conversions:
Prioritize an impactful donation form.
Use effective CTAs across your site.
Provide up-to-date, accurate information.
At Cornershop Creative, we work with nonprofits to develop high-performing websites and maintain them after the fact. Because of that work, we've seen firsthand the difference that smarter web design can have on donation conversion rates.
While you might choose to work with a web development consultant to implement some of these tips, we've also included suggestions that your team can easily implement on your own. So, let's dive in.
Prioritize an impactful donation form.
First and foremost, if you want to increase conversions on your nonprofit's website, you have to have a place for donors to give through the site. But that doesn't mean you can invest in an online donation platform haphazardly, add a link to your site, and call it a day. An ineffective donation form can cause more harm than good to your organization's bottom line, potentially inconveniencing your supporters and demotivating them from giving, or even sowing distrust if the form itself appears sketchy!
That's why we recommend not only adding donation options to your site but paying close attention to the design and functionality of that form itself.
First, consider whether you want to use a single-step or multi-step donation form. In the former, all form fields are included in one step or page and are viewed all at once. While it may seem simpler to include all fields in one step, it can also be visually overwhelming to your audience.
In this Cornershop Creative guide to digital fundraising, we recommend going with the latter option— a multi-step donation form. As evidenced in the example below, separating the various points in the donation process into click-through slides— amount, contact information, payment, review— allows donors to focus on one step at a time and simplifies the form visually.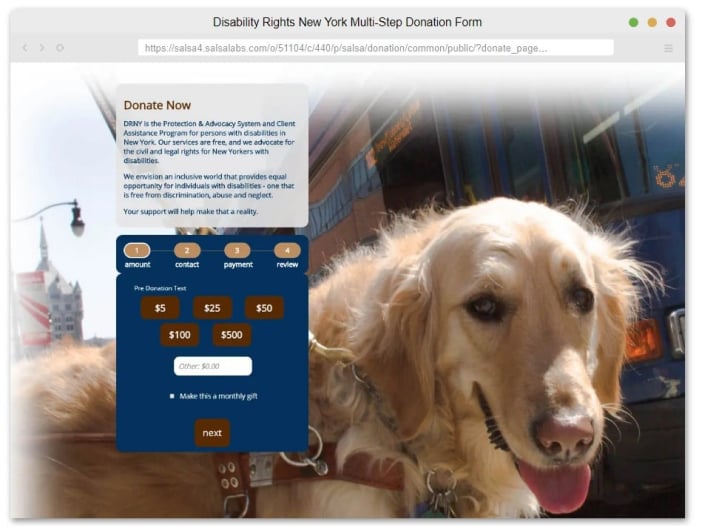 Here are a few additional tips to create a donation form that's valuable for both your donors and your nonprofit:
Limit the number of form fields you include to only gather the information you need from donors.
Include alternative text in form fields so donors accessing the form via screen reader can do so with ease.
Ensure the form is mobile-optimized so donors can give through desktops, tablets, and smartphones alike.
Offer suggested giving amounts that are slightly lower, on par with, and above the average donation to your nonprofit.
Integrate your donation form with your constituent relationship management (CRM) system so that all giving information is collected in your most comprehensive database.
Optimizing your donation form in these ways makes giving a more convenient, streamlined experience for your donors. However, don't forget that you'll also want to optimize for security since online giving involves the transfer of your donors' personal information.
We suggest embedding your donation form directly on your website rather than sending donors to a third-party site, to build their trust in the process. Beyond that, check to ensure that all data is encrypted by the donation form provider you're working with — if you're working with a nonprofit-specific provider (think: SalsaLabs, EveryAction, Blackbaud, etc.), you're probably good to go. This is crucial to ensure you're upholding the privacy and security of your supporters' data.
Use effective CTAs across your site.
Once you've optimized your online donation form, you have to actually send web users to the form to give. You see, in digital fundraising, encountering your donation form and making a gift is actually the third step in the giver's journey. Here's how the process usually goes:
Donors must learn about your organization, both who you are and what you do.
They need to identify how to support your organization, like by giving a donation through your online form.
They need to navigate to your donation form and actually complete the target action of making a gift.
If a supporter is heading to your organization's website, we can assume that step one is already complete and that your content will help them understand what you do. From there, it's up to your calls-to-action (CTAs) to show these supporters how they can give to your organization. CTAs are essentially buttons, pop-ups, text, and other elements that give supporters instructions about how to complete a desired action— for example, a bright red button that says "Donate Here."
We recommend using a variety of CTAs across your website to direct supporters to your donation form. Some ideas include:
Lightboxes: Lightboxes are pop-ups that catch the supporter's attention and direct them to the desired action. You might use these on your homepage to greet site visitors when they first open your site, directing them to your donation form. Or, you might use these right before a supporter hits "submit" on your online donation form, to encourage them to upgrade to a recurring gift. There are a variety of plugins to help you create these pop-ups, but when it comes to the best Wordpress Plugins, we recommend using WP Popup. Check out the example below to see what we mean.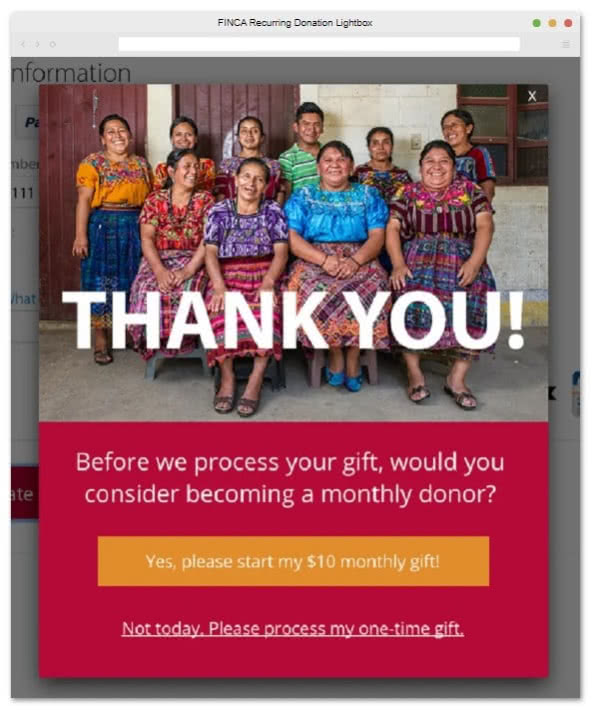 CTA Buttons: CTA buttons should be bold, eye-catching, and have a very clear next action. For example, "Donate here!" is a much more impactful CTA button than "If you're interested in donating to our organization, click here." Include these buttons frequently throughout your website, so that regardless of the page the donor is visiting, they can quickly and easily navigate to your giving form.
CTA Language: These are the in-text CTAs that can be woven throughout the information shared on your website. For example, on your About Us page, you might choose to include an in-text CTA at the end of your mission statement, to the tune of "To support our mission, donate here today." Then, you'd include an internal link pointing to your donation form.
Finally, consider using CTAs beyond your website itself. For example, include links pointing back to your website in your other communications, such as in printed materials and emails and on your social media profiles. While these aren't optimizations to your website itself, they'll help boost donor conversions on your site by directing more traffic to it overall.
Provide up-to-date, accurate information.
Let's return to the idea of the donor's journey from the past section. Before a donor is ready to give, they first need to learn about your organization and establish that you're a trustworthy nonprofit to support. On your website, the best way to help a donor do this is to provide information that's accurate, valuable, and answers to the donor's questions.
We recommend conducting ongoing website maintenance to ensure the information you provide meets that standard. In particular, make sure the following information is updated regularly:
Crucial tax documents, such as your latest Form 990. This is the document that tax-exempt organizations fill out each year to remain compliant with the IRS's requirements. It shows that you're being financially honest. It's important to provide this to donors to prove your organization's legitimacy, especially when it comes to securing the support of major donors and grant funders.
Ongoing programs and fundraisers. You should provide updates on any ongoing campaigns, such as if you're in the throes of carrying out the project funded by a capital campaign. Additionally, you should provide information about new fundraising initiatives— whether you're hosting virtual fundraising events or venturing into the world of matching gifts. According to this Double the Donation resource, one of the biggest barriers to receiving a matched gift is that donors don't know that these programs exist. The same could be applied to any new fundraising initiative!
Your current leadership structure. Your nonprofit's executive leadership and board members should be listed on your website, in another act of transparency. Donors want to know that you're led by a competent team of professionals who are advocating for your mission.
Contact information. Provide updated contact information for your main office, any subsidiary locations, and even specific staff members. This gives donors who want to learn more before contributing a clear path to do so.
Having an effective nonprofit website isn't a one-and-done effort. The work continues long after you first launch your site. With ongoing maintenance, such as updating the information you share, you'll create a site that's genuinely helpful for your donors.
Designing your site in a donor-centric manner is key to increasing conversions in 2021 and beyond. With an impactful donation form, effective CTAs, and regularly updated information, you'll be off to a great start. Beyond that, consider working with a nonprofit tech development consultant to bring your site to the next level. Good luck!
Author Bio: Ira Horowitz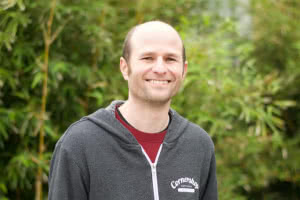 With 15 years' experience, Ira is an expert in nonprofit online communications and online fundraising. His work has resulted in increased funds and resounding supporter engagement for hundreds of organizations.
Ira oversees our project management team and works with clients to provide our clients with the best possible final product. He also manages all of our strategic engagements and helps guide nonprofits to determine their long-term strategy goals for online communications.

Jitasa's bookkeeping and accounting services are affordable and cater to every nonprofit.
Learn More