How to Fundraise From Home
A large part of fundraising for nonprofits happens face to face. It is the best way to form relationships, raise dollars, and increase awareness about your organization. When we're all staying home to avoid the potential spread of illness, this can be challenging. So how can you go about managing and even growing your donor base from the comfort of home? It may be easier than you think.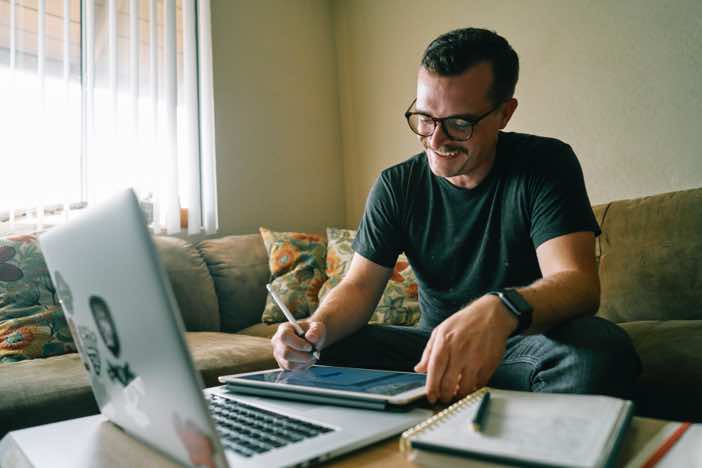 Focus on relationships
There are a lot of people feeling lonely right now, and that includes your donors. While you're working from home, take the opportunity to check in with them via phone, text, or email. Reach out and let them know you're thinking of them. Ask if there's anything they need. Make them feel heard.
Now is also a great time to thank your donors in more personal ways. Craft meaningful posts on social media, write letters, or create a newsletter that recognizes individual contributions. Make a video, create a sidewalk chalk mural, or write a little song to nurture your creative side and thank the people who make your organization run.
Create content for the future
If you're not at in-person events, now is a great time to work on newsletter stories, blogs, and other promotional materials for times when you're more active in your community. Conduct interviews, research topics that interest you, and think about what future needs you may have. You've got the time, silence, and space (or some combination of these) to make progress on this type of work now--take advantage of it!
And take in content too! Now may be one of the few chances you get to read a book on the clock, so look at professional development and self improvement books that will develop skills that can help your organization.
Plan for the future
Even if you can't travel now, you can at least make a plan for future travel. This might include planning routes, looking at places you might like to stay, and places you might stop in your promotional or fundraising journey.
Now might also be the time to cultivate relationships with organizations or individuals you've considered approaching. How can your current activities appeal to new or different audiences? Perhaps you're doing something right now that reaches a whole new donor audience.
Develop your people
Whether you're involved in formal mentorship programs or just see potential in those around you, now could be a great time to help develop your team. You probably can't hit up a happy hour, but you can participate in a video call discussion that can be made fun. Even playing games together online can improve morale and develop your team, so don't miss out on this great opportunity!
Think about the opportunity in times like this, and maintain an attitude of flexibility. This too shall pass, and your organization may be better for it. Nonprofits are providing some of the most essential services out there right now, and their hard work isn't likely to go unnoticed.

Jitasa's bookkeeping and accounting services are affordable and cater to every nonprofit.
Learn More