How Time Tracking Will Save Money and Increase Resource Availability
As the new tax year begins, many small businesses--including nonprofits-- begin trying to identify ways to improve their tax profile for the coming year. For some, this can include strategies for time management, which is especially important for companies operating on a strict budget that requires staff members to fill a variety of roles.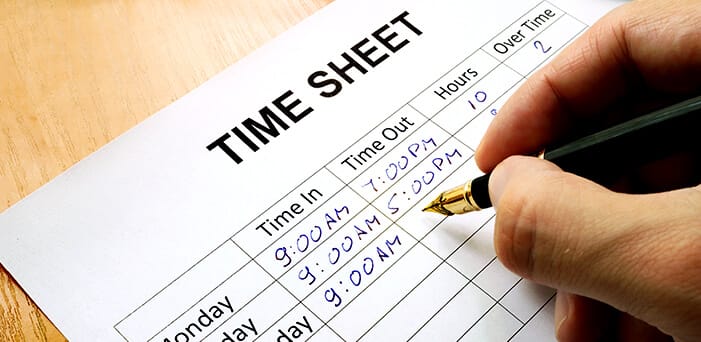 If your company frequently asks staff to divide their time between vastly different projects (social media, administration, fundraising, public relations, etc.), learning where exactly the time goes can really help with resource allocation.
Consider a Thorough Evaluation
It's hard to know where your organization's time is going if you've never taken the time to really look at it. By hiring an outside company to do a time study or simply implementing your own, you'll be able to get a more accurate look at everyone's time.
Although time studies can look a bit different, it is essentially a breakdown of all the tasks/jobs done in your company and the time going toward them. Once you've conducted a time study (which should be done yearly, ideally at the end), you can use the information to budget and staff your organization. Alternately, you can implement time tracking daily, pulling reports every month.
There are a variety of time tracking programs available across many price points, so do your research to find one that provides the kind of data that will be useful to your particular organization. You can go as high or low tech as you're comfortable with--a week of sticky notes outlining how employees are spending their days is still better than nothing.
Evaluating Results
Once you have the results of the study, it is time to think about what exactly they mean. Employees may also find their results useful, so it can be helpful to make them available within your company. To derive a plan of action based on your results, ask yourself a few questions:
Where are employees spending the most time?
Where should more time be allotted?
Where is time being wasted?
What activities don't require your (or your employee's) expertise?
How much time are you spending working toward your mission?
How can you better align your working hours with your organizational goals?
These questions should help guide you as you identify tasks that may be cheaper to outsource, staff needs, and the short and long-term mission(s) you are working toward.
Taking Action
One of the first steps in taking a plan of action is to ask employees to do a little categorizing of time. By looking at the time study, divide your time into a few categories.
Label every task/time allotment as program, fundraising, or administration. Program should contain all tasks associated with the mission of the organization, fundraising will include fundraising events, event planning, etc., and administration includes board meetings, staff planning, etc.
Once you know how much time you'd like to spend in each category, it may be necessary to reassign tasks, outsource, and hire. Obviously, this will vary greatly by organization.
The Bottom Line
It is important to stress to your employees that this isn't about micromanaging them--instead, time tracking is a measure designed to identify areas where you may need outside help, a redistribution of responsibilities, or even a raise. Time studies have very little to do with knowing if your employee lunch breaks are exactly 60 minutes and can ultimately lead to more accurate accounting and increased employee productivity and happiness.

Jitasa's bookkeeping and accounting services are affordable and cater to every nonprofit.
Learn More