Helpful Tips for Your 990 Filing: Part 2
In part 1 of this series, "Your 990 questions answered" we addressed the basic information your nonprofit should know before filing a 990, such as due dates, who has to file, what form to use, etc.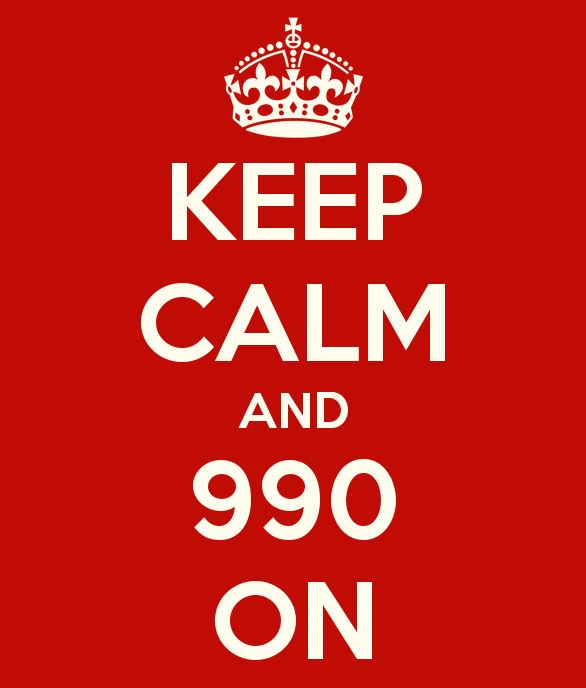 Today, we'll give you some tips on filing your 990, so that you not only survive the experience, but conquer it with as little stress as possible along the way. After scouring the internet I've found the best resources available to assist you with your 990 preparations.
Before you file
The IRS 990 form is detailed and complicated. The Nonprofit Hub wrote a great
"stress free filing guide"
that provides some excellent information. Their best tip seems pretty simple, "Before you get to the form, make sure you have important information readily available, such as your Employer Identification Number (EIN), your tax period and your Group Exemption Number (GEN)."
It's also a great idea to orient yourself with the form prior to filling it out. Guidestar is a great resource for nonprofits and donors, and they have an excellent graphic, "Highlights of IRS Form 990" which explains each portion of the 990 form in detail. It makes the 990 form easy to understand, and informs you which portions are the most important.

Definitions

If you're not an accountant, IRS speak can seem like a foreign, alien language. Often, it's not just that they say things in the most complicated way possible, but they often define things in their own terms.
The 990 form will no doubt contain terms and verbiage that you are unfamiliar with. For example, what exactly does the IRS consider a business relationship? What is a controlled entity? Recognizing the fact that their documents are confusing, the IRS has composed a
Glossary
that covers all of it. To find it, scroll down to page 51.
Further into this document, you'll also find that the IRS explains specific items that they know may be confusing. For example, they define how to configure gross receipts, and explain your obligation to make 990 records public. You can find this info beginning on page 74.
Common mistakes to avoid
Perhaps it's the complicated jargon used by the IRS, the complicated nature of the form, or the fact that you can't always afford an accountant to complete your 990. Either way, there are common mistakes that could delay your 990 process.
The
Journal of Accountancy
identifies 8 additional errors that are commonly made. Their top three are:
1.Identifying the president as both an officer and a key employee (Part VII, Section A)
2.Reporting only salaries as compensation expense (Part IX, Line 5)
3.Improperly reporting compensation reported in a prior Form 990 (Schedule J, Part II)
The Connecticut Council for Philanthropy offers a short booklet detailing 10 common errors.
Surprisingly, both have different content, and it wouldn't be a mistake to give them a quick read prior to filing. Another tip to remember: do not include any unnecessary personal information…like your social security number for example. Remember your organization's 990 is a public form that anyone is allowed to view.
You're not the only one with questions

If you have questions, you're not alone. There are plenty of composed lists featuring Frequently Asked Questions. Here are versions from
The IRS
, and
Purpleheart.org
, plus,
Pta.org
offers an entire 990 guide.
Beyond the 990
Keep in mind that a critical part of any 990 preparation is the timeliness and quality of your organization's bookkeeping itself.
The sooner your books are ready for the 990 preparation work to begin, the better. So make this a priority after your fiscal-year-end
This also applies to the accuracy and attention to detail of the books themselves.

After year-end, your personnel and/or bookkeepers should move forward with a certain sense of urgency to finalize and close the books, and ensure they are accurate.
These processes also greatly facilitate any required (or voluntary) outside audits or formal reviews.
In general, the audit reports or formal review reports should be finalized before the 990 preparation begins.

So schedule any audits with the independent accountants completing them well in advance.
If your audit or formal review is not completed prior to your 990 due date you have two options:

Sometimes it is best to file your 990 based on the most accurate information you currently have, which would be your books.

If the audit is returned and differences are found, this would mean you would have to file an amended return.

To file an amended return, check the amended return box and explain in section O the reason for the amendment.

You may also ask the IRS to grant you an extension. An automatic extension can be requested using IRS Form 8868. This form can be used to request an additional three month extension; however, you cannot request both extensions at once.
If you decide to get assistance from an outside accountant, make sure you designate an appropriate person from your organization to interface with your 990 preparer. This ensures that the 990 preparer's questions are answered in an accurate and timely manner.
Scare tactics
The 990 is a representation to the government and your donors that your organization is doing its due diligence as a nonprofit. Making sure that you are filing a complete, accurate return will save you time and energy in the long run.
If the IRS finds your 990 incomplete, the consequences can be severe, sometimes resulting in the issuance of daily penalties. This of course depends on IRS assessment, and how serious they deem the mistake. If they find that you have willingly omitted information, stricter penalties could apply.
For extra credit

You can educate yourself with:
Jitasa extras
990 useful definitions

990 when to file
Other extras
Renata Poe Massie, Content Writer for Jitasa

Jitasa's bookkeeping and accounting services are affordable and cater to every nonprofit.
Learn More