Great Fundraising Tools: Mobile Apps
It's 2016, and donating has become more mobile than ever. You can bank from your phone, connect with others via social media, and shop for anything you can think of. It makes sense that donors would want to be able to donate from their phone, and it's in your best interest as well. According to The Nonprofit Times, having a mobile donation platform can actually facilitate impulse giving.
With this in mind we've compiled a list of apps that allow donors to give back in seconds to benefit nonprofits. You can use these as examples to go mobile, or when noted, sign your nonprofit up to be included.
Charipick

Charipick allows you to donate effortlessly. Simply sign up and log in. Read a short description of your charity picks and choose the one that inspires you. Everything else is set.
For donors
This app lets you choose how much and how often you donate. You can choose to give every day, or select to give once a week or once a month. You can also choose how much you donate, from a $1 a day to $10 a day. For the other frequencies they simply multiply your daily amount by your selected frequency. Charities are vetted and they provide three options that meet your selected sections (think human rights/services, health/education, and animals/environment).
For nonprofits
Charipick takes the charities they provide to donors pretty seriously. To qualify you must have 501c3 status, and making a distinct impact in your field. After you apply and tell them about your organization, they'll research you and assess the health of your organization.
Givelify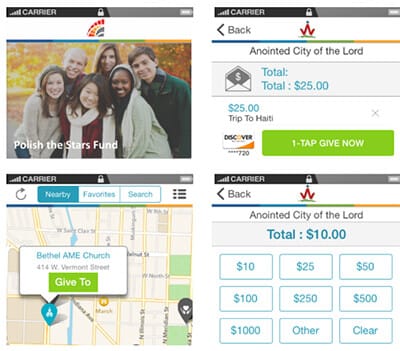 Givelify makes giving easy. Three taps on a smartphone kind of easy. Donors simply choose an amount, choose a recipient, and complete the donation.
For donors
Free for donors to download and use. The app also automatically tracks your donations, offering the capability to create a report of your giving, making yearend accounting much easier. Plus, if you have a routine donation…say tithing for church each Sunday, you can save it as a favorite, making donating even easier.
For nonprofits
Givelify allows you to "test drive" the app without downloading, to see if it will be a good fit for your organization. You can upload your logo, and customize your profile so users can easily identify your nonprofit. The app also lets you set up custom fundraising campaigns that make it easy for attendees to donate without the hassle of pledge cards.
All donations are deposited the next day. They charge a fee of 2.9% plus $0.30 per donation.
Give

Partnered with Guidestar and Nonprofit Tech for Good, the give mobile app makes choosing and donating to a nonprofit simple. You can search by city and state, zip code, keyword, and category. In addition, because they have the backing of Guidestar, they are able to access over 1.9 million registered nonprofit organizations.
For donors
The cool thing about this app is that you can create fundraising events for your friends and family to support. This makes a great way to skip your birthday and give to your favorite organization. You can also donate in two taps, set up automatic recurring donations, and save and share your favorite nonprofits and their causes.
For nonprofits
The give app is a great way to complement your fundraising efforts throughout the year. It makes donating easy and maintains the technology that donors expect in 2016.
To participate in the app you simply complete the nonprofit access form. Once you have been reviewed and approved you'll receive administrative privileges to access and update your nonprofit profile.
Renata Poe Massie, Content Creator for Jitasa

Jitasa's bookkeeping and accounting services are affordable and cater to every nonprofit.
Learn More