Get Ready for Idaho Gives with the Idaho Nonprofit Center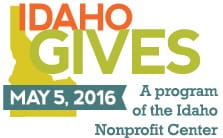 It's time to gear up and celebrate the awesome community of Idaho! May 5th, 2016 kicks of the statewide, 24 hour giving day that illustrates how generous and giving our great state can be. Going strong for the 4th year in a row, everyone is excited to see if we can beat last year's record giving of nearly 1.1 million bucks. Below you'll find all the information you need to join the fun and become a part of this great event.
If you're a nonprofit
Simply complete the registration form. Whether or not you participated last year, registering can be done in two steps or less. Plus, if you're a member of Idaho Nonprofit Center registration is free.
Key Dates:
April 8th, 2016
Final Registration date for nonprofits wishing to participate in Idaho Gives
April 15th, 2016
Last chance to order Idaho Gives T-shirts (they're only $10)
If you're a donor
If you're a donor, all donations take place online, meaning you can give anytime and anywhere on May 5th by visiting the homepage. It's not too early to check and see if your favorite nonprofit is registered, or to find a new inspiring mission to donate too.
About the Idaho Nonprofit Center
They offer some great member benefit and represent the interests of the Idaho nonprofit sector, including over 5,500 registered charitable nonprofits, more than 52,000 employees, and over 425,000 volunteers. They're committed to improving individual organizations to make our state an even greater place to live.

Jitasa's bookkeeping and accounting services are affordable and cater to every nonprofit.
Learn More