Gear Up for Idaho Gives 2017
Are you ready to commit to building a stronger Idaho? The time to gather as a community and celebrate giving has rolled around again. May 4th, 2017 kicks off the statewide, 24 hour giving day known as Idaho Gives.
Idaho Gives is an inspiring event that truly illustrates how generous and giving our great state can be. Last year, Idaho banded together to raise an astounding 1.1 million dollars, from 13,000 donations and 7,515 individuals. This helped 632 nonprofits make a staggering difference within our beloved community. 2017 marks the 5th year of this awesome event, and everyone is excited to see if we can beat last year's record of giving.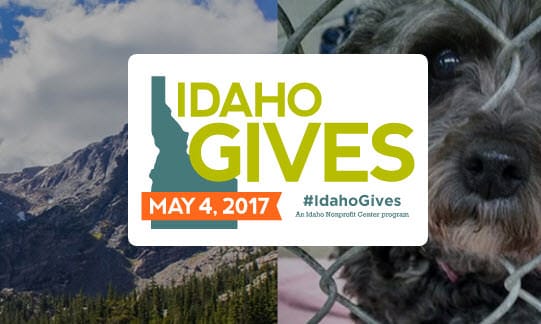 Idaho Gives is hosted by the Idaho Nonprofit Center, a pillar of the community, Idaho Nonprofit Center acts as a bridge between Idaho's nonprofit, for-profit, and government sectors. They seek to share knowledge, solve problems, and serve the public good.
What's changed for 2017?
This year the donation platform has been changed from Razoo to the new online giving program GiveGab. This change results in reduced credit card fees, a quicker turn around for funds received by the nonprofit of your choice, and an easier to use search feature (by county).
What hasn't changed for 2017?
All donations will still take place online. That means you can give anytime and anywhere on May 4th by visiting the homepage. It's not too early to check and see if your favorite nonprofit is registered, or to find a new inspiring mission…and with over 500 nonprofits to choose from, you'll want to investigate early.
The day will also still be filled with fun live events all over the state. To find an exciting way to participate, visit https://www.idahononprofits.org/day-of-events-statewide. You can also sport your support with a t-shirt.

Jitasa's bookkeeping and accounting services are affordable and cater to every nonprofit.
Learn More