Fraud and Your Nonprofit Organization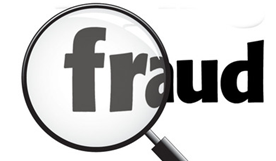 Fraud in the nonprofit world can have staggering impacts to your mission. As a nonprofit, you experience an increased financial risk. Due to budget size and restraints, nonprofit organizations will feel the impact of a negative incident (such as fraud) on a far larger scale than a for-profit organization. As such, instances of fraud, misstated financials, and stolen or damaged assets can have severe consequences in this sector.
An article from
The Nonprofit Times
provides statistics that could drastically impact your mission.
These statistics "taken from the Association of Fraud Examiners 2012 Global Fraud Survey (which includes for-profits)" are enough to make anyone wary. The Nonprofit Times states:
Asset misappropriation schemes made up 87 percent of reported cases.
Reported frauds last approximately 18 months before detection.
The median loss caused by occupational fraud was $140,000.
Approximately 85 percent of fraudsters are first-time offenders.
In addition, according to
Sobel & Co. LLC
, "[a] typical organization [will] lose about 5% of [their] annual revenues to fraud." Worldwide, this loss is "equivalent to 3.5 trillion dollar annually."
So, what can you do to prevent this type of loss at your organization?

Initiate Internal Controls
Internal controls serve as the first line of defense in safeguarding assets, detecting and preventing errors, fraud, and impropriety. The easiest way to prevent fraud is to enact the separation of duties.
Separation of duties include:
The person who requisitions the purchase of goods or services should not be the person who approves the purchase.
The person who approves the purchase of goods or services should not be the person who reconciles the monthly financial reports.
The person who approves the purchase of goods or services should not be able to obtain custody of checks.
The person who maintains and reconciles the accounting records should not be able to obtain custody of checks.
The person who opens the mail and prepares a listing of checks received should not be the person who makes the deposit.
The person who opens the mail and prepares a listing of checks received should not be the person who maintains the accounts receivable accounting records.
Maintain Best Practices
Once you've initiated best practices, review and maintain your policies to ensure that they keep your organization's best interests at heart, and that they leave no loopholes for fraud.


Some best practices to incorporate during your review can include a clearly defined list of who is responsible for what tasks, and who will be reviewing that task (how is cash handled, when is money deposited, when are checks processed, who reconciles bank accounts). Also ensure that staff is initiating basic physical controls such as locking their computer, setting strong passwords that are never shared, and locking drawers, etc.

Establish Policies
Hiring policies:
During the hiring process complete background and credit checks. While it may cost you money upfront, it will allow you to see if a person is living above their means, or has a high amount of personal debt.

Whistle blower:
If an employee knows of illegal activities or organizational wrongdoings taking place they can fear the consequences of reporting those activities. A Whistleblower Policy is to protect the board, volunteers, and employees from retaliation if they report wrongdoings.

Blue Avocado has a great sample Whistleblower Policy


Conflict of Interest:

Many times people do not realize that their interests or activities may result in a conflict with the nonprofit organization they are a part of. It is a best practice to have a conflict of interest policy written and have it reviewed yearly. It is a good time to discuss situations that could occur so if conflict arises there is a policy in place and the board is prepared.

Record Retention and Destruction Policy:
Organizations see thousands of documents a year and it can be hard to know what specifically to keep, for how long and when to destroy the documents. Having a Record Retention and Destruction Policy will give your organization a set policy on how to handle documents
Educate
Provide an environment that involves open communication, and encourage your employees and volunteers to come to you with concerns. By having management set the tone and create a positive work environment, employees are more likely to report fraudulent activities.

Also establish yearly fraud and ethics training. This will educate employees as well as remind them that the organization takes fraud matter seriously. As mentioned above, having a Whistleblower Policy will let employees know retaliation is not allowed if they do come forward with findings. Have at least quarterly communication regarding fraud, to keep it at the forefront of everyone's mind.

Know the Offenders
Sobel & Co. LLC provides the following demographics of individuals that commit fraud.
Male (65%) – Female (35%)
54% between 31-45 years of age
College educated
Never charged with or convicted of a crime
They also offer statistics on the top areas fraud occurs and the best ways to detect it. See their full report at
here
.

Remember That:
Fraud occurs when you have 1) opportunity, 2) need, and 3) rationale. While you can't directly safeguard against an employee's need and rationale, internal controls focus on minimizing number one, the opportunity of fraud.

Oftentimes, simply knowing that they will be caught is enough to deter a person from committing fraud. Proper controls give everyone peace of mind, guaranteeing fraud will be swiftly discovered while removing the temptation to commit it.
Extra Credit
Renata Poe Massie, Content Writer for Jitasa
Our Nonprofit Accounting Support Center means our expertise will be just a phone call or email away. Available when you need it, for a price you can afford.
See Plans and Pricing Now

Jitasa's bookkeeping and accounting services are affordable and cater to every nonprofit.
Learn More