Fostering a Culture of Continued Education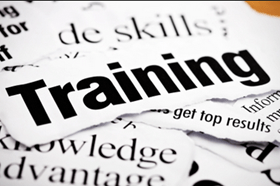 You may not realize it, but continued education and training is a critical part of moving an organization forward. Whether you feel you do not have the time, funds, or resources to provide education and training for your employees, you must realize stagnation is a plague that can result in the loss of employees.
According to INC writer Lou Dubois, "A recent Louis Harris and Associates poll reports among employees with poor training opportunities, 41 percent planned to leave within a year. Only 12 percent planned to leave among those who considered their company's training opportunities to be excellent, resulting in a retention rate more than two-thirds higher… career development is still the No. 1 factor in employee retention." Fostering an environment that values education and training clearly combats employee turnover. You as the employer, can create a culture which values and expects continued education and training; Not only by you, but by your employees as well.


Utilizing the correct tactics in encouraging further education can be difficult. In most situations you'll want to steer away from driving this through fear-- i.e. the fear of being terminated or reprimanded should never be used to demand continued education. Instead, consider doing the following:
Start at the source and inquire about education during the hiring process--pursue candidates who have striven to gain more knowledge on their own, as they're likely to continue doing so as a member of your organization.
Drive an education initiative through incentives and opportunity. Consider a bonus structure based in part upon the training and classes that an individual has attended throughout the year. (If creating a bonus structure for everyone in your organization is out of reach, you may look into making it part of your managers' bonus structure. If they have incentive to train their subordinates, it will create an expectation of learning among your employees that will sustain as they move further into their careers within the organization.)
If you have a desire to promote a culture of education, but feel you lack the funds and resources to implement one, consider some of the training options below:
Create a monthly book reading program supported by incentives to participate and discuss the reading regularly.
Discover the world of free webinars. There are many valuable organizations that are themselves nonprofits. They offer regular training with leading instructors, on topics that are relevant to your organization. Nonprofitwebinars.com is one such resource.
Encourage employees to spend 15 minutes of their day learning. This may not seem like a lot of time, but when you consider the ample amount of nonprofit blogs out there, 15 minutes can be a great deal. Socialbrite, Kivi's nonprofit blog, Hubspot, and our blog offer valuable information pertaining to all areas of nonprofit functions.
Assign one individual who participates in vast training, and have that individual conduct small employee trainings by department. These trainings need only include what the designated employee found valuable and pertinent, saving your resources while still training your team.
Implement Job Shadowing. Doing so can create active learning and discussion between your employees and volunteers. This not only encourages further learning, but increases an employee's feeling of worth.
Simple adjustments in your attitude toward education and how you address it in your culture can quickly cultivate changes, make sure they are positive and enable you to continue to progress.
Alex Hayden, Quality Assurance for Jitasa


Extra Credit:
View our resources
Dubois, Lou . How to Implement a Continuing Education Program. Inc., 18 Aug. 2010. Web. Dec. 18, 2013.

Jitasa's bookkeeping and accounting services are affordable and cater to every nonprofit.
Learn More