Communicating With Your Outsourcing Company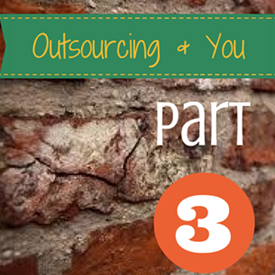 This month, we featured a 3 part series on outsourcing. Part 1 helped you decide "Is Outsourcing Right For You?", Part 2 gave you tips on "Interviewing An Outsourcer", and today we debut Part 3 "Communicating With Your Outsourcer," read below to learn how to achieve successful interactions with your outsourcing vendor.
So, you've chosen an outsourcer. Now that they're interviewed and approved what should your organization do to ensure you have the best relationship going forward?
Remember that "outsourcing is a very co-dependent partnership. Outsourcing vendors rely on their clients for data, information, and compliance with processes. Nonprofits rely on their vendors to achieve certain service levels and to be trustworthy and reliable. When one fails, the other is hurt." As Jitasa CEO Jeff Russell points out in his book
Do What You Do Best
, for an outsourcing relationship to succeed both parties have to be fully committed.

This ultimately means that just because you are outsourcing does not mean that you no longer have responsibilities for your outsourced function. Below are things that will still require your direct involvement, and things to remember no matter what you're outsourcing.

Number one is communication

Communication in any relationship is essential, but it is especially important in outsourcing. Be able and willing to provide those involved in your specialized function with prompt, regular communication.


If you wait weeks to respond to a request from your outsourcer you are harming your organization and your mission. And this often results in missed deadlines. If you're outsourcing a function like accounting, this can result in fines and reprimands from the IRS. The best way to keep communication lines open? According to
Gabriel Fuchs of CIO
"communications need to be predictable—i.e., arriving regularly and in a standardized format so that key points are easy to find." That means arranging regular meetings, and attending them with preparedness and engagement.

Keep your firm informed

Your outsourcer has the best interests of your mission at heart. In order for your relationship to succeed they need to be informed and kept up to date with all information affecting your function.


Prior to your initial or update calls/appointments go through the documentation you've given them and check it against your own. Ensure that there is no missing or inaccurate information. If you do find that you've neglected to disclose something, provide the information straight away. Outsourcers understand that like them, you are only human, however the quicker an inaccuracy is detected the quicker it can be resolved.
Gabriel Fuchs
also advises to "let people know what is going on even before they ask the questions. It is obviously not possible to anticipate all the questions that will arise, but proactive communication will…keep some control on what is communicated."

Be considerate

Remember that this is a business relationship. You wouldn't be late to a meeting with a million dollar donor. Don't be late to calls or meetings with your firm. Attend the meeting armed with questions you have and notes on what you'd like to cover. Effective Meetings .com provides a great tip from George Kieffer's "The Strategy of Meetings," who advises you to "Envision the meeting as you would like it to take place, and determine what must be done in the way of further specific preparation to make your desired vision a reality."


In addition to being on time, keep your calls and meetings to the time allotted. Chances are the outsourcer you work with has other clients that they need to meet with, and continually running over the time you've scheduled can harm those clients.

Understand your expectations

You can't perform at or above expectations if you don't know what they are. Be sure that you understand your expectations from the beginning. Prior to signing up, get a list of duties that you would be responsible for.

Also make sure that you're checking in with your outsourcer regularly for feedback. Asking "what can I do to improve our relationship?" will provide you with insight, and let you know if there is something you could be doing better.

Establish clear responsibilities for all parties
Establish clear responsibilities within your organization. With an accounting function for example, it is best practice to have a
clear separation of duties
. We recommend creating a list that clearly dictates who is responsible for what tasks. This list should be reviewed and updated yearly to guarantee accuracy. In our area of outsourcing, it is imperative that an accountant know who has authorization for your organization's financial functions, such as debit and credit cards. An outsourcer should know exactly who to contact with questions or problems concerning the function.
You should also limit those who have responsibilities with the outsourcer. Limiting those who deal directly with the outsourcer will ensure that the correct individuals are informed. It will also cut down on the
"telephone"
aspect of too many people relaying information.

Your outsourcer is happy to help

Your outsourcer wants your relationship and your organization to succeed. They are more than happy to help you. If you have questions, need clarification on documentation, or want something explained in greater detail, just ask.

Remember that they are there to assist you, and explaining the processes and documents they provide is part of the service they offer. You shouldn't be concerned that you are inconveniencing them or that they will find you less intelligent. They know that you have little to no knowledge about their subject, and will have no problem parting with theirs.

You make the decisions

This is second only to communication. Keep in mind that any outsourcing company can only act as an advisor. You, your CFO and your board are, and always will be responsible for the decisions of your nonprofit organization.

Trust that your firm knows what they're doing

Ask questions, but don't assume that the individual you've hired doesn't know what they're doing. You've chosen the firm for a reason, and expertise was hopefully among the reasons that they were your ultimate selection.

However, you should also feel comfortable asking why. If your firm is asking for something that you have questions about, ask them why they need that information. Don't be confrontational or question their knowledge, instead ask them to improve your knowledge.

Provide Feedback
If you love working with your outsourcer, or wish there was something they would do differently, let them know.
Software Business Partners
states perfectly that "constant feedback between customer and outsourcer assures a clear understanding of the current issues."
Whether you are providing feedback via email, or completing surveys through the company, relaying how you feel about their services can only improve your experiences.
Renata Poe Massie, Content Creator for Jitasa
Our Nonprofit Accounting Support Center means our expertise will be just a phone call or email away. Available when you need it, for a price you can afford.
See Plans and Pricing Now

Jitasa's bookkeeping and accounting services are affordable and cater to every nonprofit.
Learn More