Cause Camp Recap: #Calmnotbusy
If you weren't fortunate enough to attend Cause Camp, either in person or digitally, you missed out on some amazing speakers. In this short series, we'll be focusing on the speakers we found most inspiring and providing a breakdown of what they discussed.
If you haven't heard of Kivi Leroux Miller, you might be living under a rock, or new to the nonprofit community. Kivi is a powerhouse of nonprofit communications. As president of Nonprofit Marketing Guide, Kivi trains, coaches, and consults within the nonprofit community to improve how you communicate, and the efficiency that drives that communication.
During Cause Camp 2017, she gave a detailed presentation about how being "busy" kills your productivity and keeps you from achieving your full potential. She defines being too BUSY as:
B - Bogus
U - Unrealistic
S - Sidestepping
Y - Yoked
Kivi points out that sufferers of "busy" will be held down by expectations that exceed their allotted time, and that: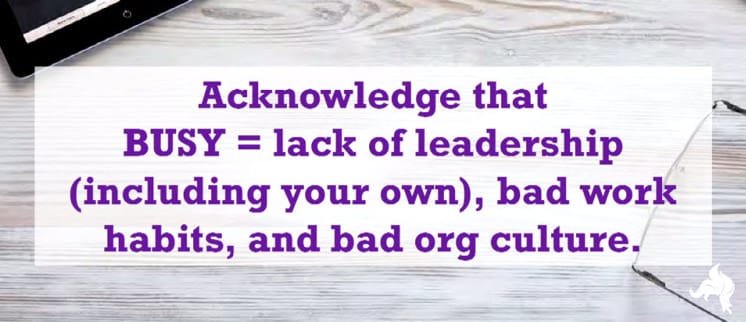 To drive efficiency and increase success, she explains that you need to seek and maintain "calm". Another acronym, CALM stands for:
C - Collaborative
A - Agile
L - Logical
M - Methodical
With a focus on CALM, you are part of a team, you're able to bend and respond as needed, and maintain a plan that connects to the goal of your mission.
To achieve calm and not busy, Kivi has three actionable steps to get you started.
1. Create and use an editorial schedule
This will make your life easier. Especially if you make it understood to others in your organization that this is how you manage your time. This is one of the areas that Kivi specializes in, and if you can get in on one of her webinars concerning the subject you'll be doing yourself a favor. You can also read this blog to get started.
2. Simplify your routines
Doing so will allow you to free up your time and make you more productive. You can seek a simpler life be creating boundaries and rules for how your time is spent. Kivi explains this a heck of a lot better than I will, so check out her blog on the subject here.
3. Hit the pause button
Learn how to say no without saying no, and when you should use it. This will free up your time spent listening to these brilliant plans. Kivi suggests a system that allows people to log their bright ideas for communications, campaigns, and content creation in a "holding pen" environment until they can be tested against a certain set of standards. She has a blog on this "holding pen" idea as well, see it here.
If there is one thing I took away from Kivi's presentation, it's that the info she gave the room was just the tip of the iceberg. To pick her brain in more detail, be sure and subscribe to her amazing blog, and follow her on Twitter and Facebook. If you're on the fence about attending a webinar or paying for a consult, do yourself a favor and say yes.

Jitasa's bookkeeping and accounting services are affordable and cater to every nonprofit.
Learn More