Albertson's Boise Open Benefits Jitasa Clients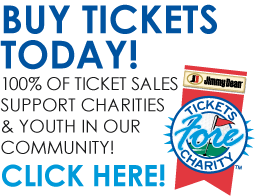 The Albertson's Boise Open has a 24 year history in the Treasure Valley. In those 24 years, they have raised over 15 million dollars for local nonprofit organizations. Thanks to their Jimmy Dean Tickets Fore Charity Program, a 100% of ticket sale proceeds benefit participating Treasure Valley charities.
The event is an excellent opportunity to view future PGA stars in action while having fun and affecting your community in a positive way. Tickets begin at just $25 for single attendees, while group rates start at just $85. All tickets include weekly access to the grounds and free parking and shuttle services to and from the event. Those 17 and under are allowed free access when accompanied by a ticketed adult.
When purchasing your tickets online, you'll see a drop down menu that will allow you to choose a local charity to receive the funds from your ticket. Participating charities from the Jitasa family include:
Wyakin Warrior Foundation

The Wyakin Warrior Foundation is dedicated to helping injured and wounded warriors not only persevere, but excel in civilian life. They assist those that have sacrificed for our country by providing scholarship, mentoring, training and networking assistance to Veterans.

Big Brothers Big Sisters of Idaho

Big Brothers Big Sisters of Idaho is committed to improving the lives of children through the aid of mentoring volunteers. By matching children with an adult, they provide a healthy role model and increased family support. Their mentoring program also reduces inappropriate school behavior and increases the chance of a child graduating high school on time.

Epilepsy Foundation of Idaho

Over 22,000 people living in Idaho are doing so with epilepsy, The Epilepsy Foundation of Idaho attempts to aid these individuals. They seek to overcome the stigmas associated with epilepsy through education, assist in overcoming the challenges that epilepsy can create, and stop seizures by finding a cure.
While all the charities listed in the Albertson's Boise Open dropdown assist the community with great missions, these three our near to our hearts. We work with them frequently and see the passion that drives their organizations toward success. If you plan to join in the fun at the 25th Annual Albertson's Boise Open July 14-20 please consider donating to one of our great clients listed above.
Renata Poe Massie, Content Writer for Jitasa

Jitasa's bookkeeping and accounting services are affordable and cater to every nonprofit.
Learn More