7 Things to Know When Selecting a Software Vendor for Your Nonprofit
A great read from one of our services partners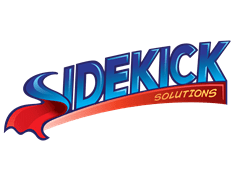 Sidekick Solutions provides setup and support services for donor management and fundraising software.
There are many software solutions available for nonprofit organizations. It can be hard to decide which one is right for your organization. With endless variety, options, and alternatives it is easy to pick one, but it is hard to pick the "right" one. The stakes are even higher when deciding to invest in software tasked with managing critical functions like accounting, donor management, or program management.
You can increase your chances of finding the "right" solution by conducting some due diligence.
At Sidekick Solutions we use a framework to evaluate nonprofit software vendors for our company and the nonprofit organizations we work with. The following seven items are some highlights from our due diligence framework. Keep in mind that everyone's due diligence process is unique, so these items may be expanded or adapted to meet your specific situation and needs.
1. Goals, Challenges, and Opportunities
Before you start contacting software vendors, answer three questions about your organization. What are your goals? What are your challenges? What are your opportunities? When these are outlined, ask the vendor whether or not their solution can empower you to reach your goals, mitigate your challenges, and enhance your opportunities.
2. Number of Current Customers and Retention Rate
These two metrics are very important together. A software vendor may have thousands of current customers, but only half of them stay with the software after six months. Whereas a vendor with a low number of current customers may have near 100% retention rate. There is middle ground between these two extremes, but these two metrics will define the overall user base of the software and a general customer satisfaction rate for that group.
3. Customer and Technical Support
I like to ask lots of questions, or at least have information available so I can answer my own questions. You will have questions when using the software. There may be technical glitches with the software as well. Most vendors will include both customer and technical support with the software, but some support may be for a fee. Make sure there is clear understanding of what is included, what isn't included, and what alternatives may be available if needed.
4. Training
Training is one of the most important elements of any software implementation. Your organization will need training. Your organization will need to build capacity in the software. As a result, always ask what training is included and what additional training is available. If training is included, does it generally give users enough background to use the software? Sometimes the training programs aren't robust and can leave capacity gaps at your organization. Always, ask what training is available ala carte because you may hire new people who will need to be trained in the future, or you may not receive all the training you need after attending the included training.
5. Up and Running
Ask the vendor what it takes to get "up and running." How do we get from Day 1 to a point where we are proficient users of the software? Sometimes vendors will help you with a guided process. However, that process may have a number of expectations that fall on you and your organization. You want to know what is expected of you to implement the software. Then evaluate whether your organization can tackle these expectations.
6. Free Trial or Demo
Free trials are sometimes difficult because you have to teach yourself how to use the software. If a free trial isn't for you, a demo is great because in most cases a vendor will take your goals, challenges, and opportunities and show you how they apply directly to the software. A demo will show you practical application of the software. It will allow you to see the software in action.
7. Exit Process
Not every software is a match made in heaven. Sometimes it is implemented and it just doesn't work the way you thought. Sometimes funding gets tight and you can't pay for the software. There are real world situations that can impact your adoption and use of the software. Always ask the vendor what happens if you need to leave. What happens to your data? What are the steps for the exit process? What are your obligations for payment? Hopefully, the glass slipper fits, but it is always a good idea to plan for contingencies.
The opportunities available to nonprofit organizations through effective nonprofit software applications cannot be overlooked. Moving from spreadsheets, paper, post-its, and older feature-deficient databases to an effective nonprofit software application can increase staff time efficiency, reduce organizational stress, and increase the organization's potential to change lives through its mission. However, a well thought out due diligence plan must be in place to make sure you find the solution that is the "right" fit.
Jeff Haguewood, Co-Founder - Sidekick Solutions
About Sidekick Solutions
Sidekick Solutions believes nonprofits and their staff are real-life heroes. Sidekick Solutions reduces the stress, burden, cost, risk and time commitment of implementing and sustaining nonprofit software by setting-up the software, guiding first-steps, training new users, and supporting long-term use. Sidekick Solutions supports software that simplifies donor management, fundraising, and program performance management. Sidekick Solutions was founded by Jeff Haguewood and Shannon Morales in January 2013.
Subscribe to Sidekick Solutions' Email Newsletter: http://eepurl.com/xzGyn
If you're interested in Microsoft Dynamics NAV, please visit BroadPoint.

Jitasa's bookkeeping and accounting services are affordable and cater to every nonprofit.
Learn More