6 Ways to Reassess and Revitalize Your Nonprofit in 2021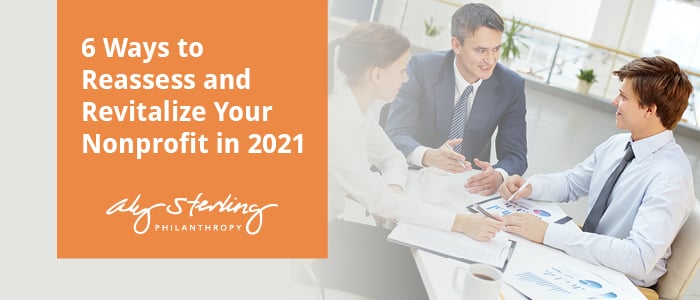 Often, people look to January as a time of energy and motivation for starting new habits and reinventing themselves. Generally, it comes right after a period of rest and relaxation, so goal-setters are prepared for a fresh start when the new year hits.
In contrast, nonprofit professionals know that January represents a welcomed end to the hectic year-end fundraising season. It's the finish line of the biggest fundraising push of the year, so when it's been crossed, your team may be tired and even a little burnt out. In this situation, it may be more challenging for your organization to join in on the "new year, new you" mentality.
However, if you can maintain motivation, the start of a new year is a great time to set goals and align your priorities for the months to come.
By taking stock of your nonprofit's current structure, policies and fundraising practices, you'll be well-positioned to make strategic improvements and pursue your mission more effectively.
At Aly Sterling Philanthropy, we empower nonprofits to cultivate deeper relationships with their supporters and raise more money for their work. We've helped countless organizations analyze and improve their operations, and based on these experiences we've compiled a list of the most impactful strategies to apply in the new year:
The early weeks and months of 2021 are crucial to your success for the entire year. By starting off on the right foot (and maintaining the momentum from your ambitious year-end season), you'll be able to tackle any challenge. Let's jump in.
1. Review key fundraising metrics from the previous year.
Along with this qualitative review of your current work by your stakeholders, you'll also want to examine your successes and shortcomings on a quantitative basis. Since the big year-end push is complete, you'll be able to take a step back and look at your fundraising results for the entire year according to various key performance indicators (KPIs).
Did your organization meet its fundraising goals? In addition to broad metrics like your overall fundraising total, you'll want to assess performance for specific campaigns. The exact numbers to analyze will vary based on your nonprofit's size, initiatives, and strategic goals. DonorSearch has an extensive list of fundraising metrics to consider tracking, including KPIs such as:
Fundraising ROI
Matching gift rate
Email conversion rate
Donor retention rate and donor attrition rate
For each metric you analyze, you'll want to examine not only whether or not you hit the desired number but also why.
For instance, if your goal was to improve your donor retention rate over the last year, were you successful? If so, which engagement tactics seemed most effective? If not, how could you adjust your approach to try again in 2021?
Determining the story behind the numbers will help you craft a more successful strategy for the coming months.
2. Conduct a stakeholder assessment.
We've all heard the expression "can't see the forest for the trees," and it's applicable here—it's challenging to find overall areas of improvement or accurately assess community impact when you're buried in the details. To avoid this obstacle, it can be helpful to have a consultant conduct a stakeholder assessment.
A stakeholder assessment uncovers an informative birds-eye view of your organization's recent strengths, weaknesses and impact. This assessment is made up of one-on-one conversations with key individuals who are involved with or impacted by your work.
When you're deciding who to speak with, make sure to choose individuals who have a comprehensive knowledge of your work and will be willing to provide constructive criticism alongside more positive feedback. Stakeholders may include:
Community leaders
Key volunteers
Major donors
Local nonprofit leaders
These external stakeholders may be hesitant to provide truly honest feedback if a member of your organization conducts the interview. To encourage more candid responses, consider bringing in a third party such as a nonprofit consultant to facilitate these conversations.
Stakeholder assessments are common when conducting a feasibility study or preparing a new strategic plan. However, even if you're not in the middle of an organizational overhaul or gearing up for a capital campaign, it can still help illuminate a path forward for a new year of fundraising.
3. Examine and elevate donor recognition strategies.
Successful fundraising professionals understand that meaningful donor relationships are critical to meeting your funding goals. This applies not only to major donors but also to lower giving tiers. When donors feel more connected to and appreciated by your organization, they'll be more inclined to keep engaging (and giving) year after year.
One crucial component of stewardship is donor recognition. As you kick off a new year of fundraising, confirm that you have a plan in place to appropriately acknowledge each gift you receive. The type of donor appreciation will vary depending on the size of the gift, but a few common ideas are thank-you letters, appreciation events, or even a physical recognition display.
Be sure that your policy offers recognition that is proportionate to the gift and consistent across gifts. For example, donors who contribute $1000 should all be acknowledged in the same way. Putting a plan in place now will ensure you don't acknowledge December's major donors with more emphasis than January's!
4. Explore new fundraising pathways.
As you prepare your nonprofit's budget and fundraising plans for the year ahead, assess the diversity of your revenue streams. If your organization is relying on a handful of major donors or one large grant to pursue your mission, you're exposing yourself to potentially disastrous risk if something falls through.
By exploring new fundraising sources, you can reduce your vulnerability in the case of change or crisis. If a grant application falls through or a big fundraising event has to get cancelled, you'll still have plenty of resources to keep working.
To avoid putting all your fundraising eggs in one basket, consider the following opportunities:
Leverage the growing corporate philanthropy trends by seeking corporate sponsorships or doubling down on your matching gift efforts.
Strengthen your grant-seeking approach by cultivating connections with relevant funders.
Conduct prospect research to uncover potential major donors within your existing supporter base and in the broader community.
Connect with organizations that manage donor-advised funds.
Even if you're already pursuing many of these opportunities, it's worth assessing whether you can further expand the breadth of your fundraising efforts. This way, you'll be less reliant on one source of funding. If you need guidance in diversifying your revenue streams, an experienced fundraising consultant can help you establish new relationships with potential funders and discover new opportunities.
5. Evaluate board governance and staff organization
Your nonprofit has a wide variety of people who work to push your mission forward, including your staff, board members and volunteers.
At the start of the year, consider whether each team is working as efficiently and productively as possible. This analysis should include optimizing your internal processes and updating any outmoded training resources.
When assessing your internal infrastructure, consider questions such as:
Is there effective collaboration across teams, or is communication siloed?
Are your staff members delegating items effectively?
Do you need to implement any new tools to streamline key activities? On the other hand, does your entire team understand how to effectively use all of the existing tools?
Are your board members fully engaged and actively participating?
Your executive team should hold conversations with staff and board members to illuminate potential areas of improvement and create solutions for solving them.
Additionally, you'll want to confirm everyone on your team has the resources they need to make progress. This should include training and onboarding documentation, marketing collateral and an overview of your plans for the year. All materials should be up-to-date with your current objectives.
6. Collaborate with a consultant.
A fresh start to the year requires you to examine your initiatives and infrastructure with fresh eyes. However, as someone who is deeply invested in the work, it may be challenging to have a truly unbiased view.
To accurately assess your nonprofit, it's best to bring in an external consultant who can provide an objective perspective on your organization.
This will be most effective if you have a clear idea of what areas you want to focus on, what you want to accomplish and how a consultant may be able to help. For example, if you know you want to double-down on your stewardship efforts, look for a consultant who specializes in donor relationships and recognition. While this guide provides a great jumping-off point for areas to tackle at the start of the year, a fundraising consultant should be able to uncover additional opportunities for improvement.
The Aly Sterling guide to hiring a fundraising consultant recommends asking respected peers, professional organizations, and other community-based organizations to refer you to a reputable consultant. Once you have a list of candidates, you can request proposals to help you make a final decision.
Your nonprofit's team needed a lot of energy to push through #GivingTuesday and the rest of the year-end fundraising season. Instead of losing momentum in the new year, capitalize on this existing energy and use it to start off with a bang.
By revitalizing these aspects of your organization's strategy, you can focus and align your efforts towards activities that will make the biggest impact on your mission. Best of luck!
Author: Aly Sterling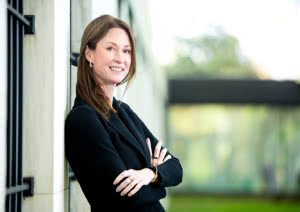 Aly's expertise includes fundraising, strategic planning, search consultation and board leadership development for the well-positioned nonprofit. She is regularly sought for comment by trade and mainstream media, including the Chronicle of Philanthropy and U.S. News & World Report. She has contributed to publications of BoardSource and The Governance Institute, as well as the Toledo Chamber of Commerce and The Giving Institute.

Jitasa's bookkeeping and accounting services are affordable and cater to every nonprofit.
Learn More