4 Tweeters That Will Improve Your Twitter Feed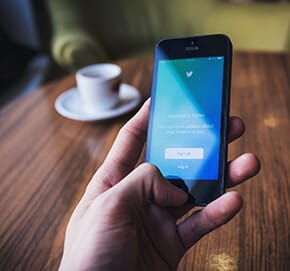 The twitterverse is a special domain. It's an excellent place to communicate with people you idolize, have a laugh, or stay up to date with breaking news. While twitter offers a great many features, I find the ability to curate separate twitter feeds by topic invaluable. With this listing feature, you can have the exact content that you desire giftwrapped and delivered with the click of a button. Below are 5 twitterers that our lists couldn't live without.
**As a refresher, if you don't know how to create a list on twitter, see below and we'll walk you through step by step.
Bloomerang offers a great feed for all things nonprofit technology. They describe their feed as "software and knowledge to help nonprofits reach, engage, and retain the advocates they depend on…" and their tweets hold true to this sentiment. They also get a ton of interaction from some nonprofit heavy hitters. Check them out for great articles from their blog, and
Recent standout tweets include:
2. The Socialbrite team: @socialbrite
They describe themselves as, "a learning hub & sharing community for nonprofits & causes, created by social media smarties mixed with the wisdom of eagles." A description like that makes them hard to underestimate, which is good because their feed is awesome. Riddled with great social media hacks, the best ways to reach and penetrate your audiences, and how to improve the effectiveness of your posts, this is one twitter feed you can't miss.
3. Social Media for Nonprofits: @SM4Nonprofits
Social media for social good. That's what Social Media for Nonprofits is all about. With more than 22, 000 followers they must be doing something right. They offer great tips on increasing engagement, developing best practices when it comes to social, and targeting your audience through content.
Great content from recent tweets:
Self-described as "a web agency that cares," Jill and the 2 Dogs Media team post relevant info about understanding and utilizing SEO in your nonprofit, the ins and outs of wordpress, and how to keep your website operating at peak performance. It's an excellent feed to follow for any nonprofit.
They also give away thousands of dollars of free web design, SEO, and marketing services to the nonprofit community using their "Best Friends grant". To enter click here
Creating a twitter list
Keep everyone you value in one place. Creating a list is easy; once you've created an account or logged in, simply find someone you want to follow.
For example, if you want to follow @Jitasa_Group:
You would input our username in the search bar. This will take you to our twitter homepage.
Click the follow button on the right-hand side.
Then select the settings wheel that is directly beside the follow button. This will bring up a screen that will display an options screen.
Select the option "add or remove from lists" this will bring up a screen of your lists.
To add a new one, select "create a list"
You can then create a name for the list and a description if you'd like.
The privacy field on the bottom of this popup allows you to decide if you want your list public or private. If you don't want others to be able to view or follow your list, select "private"
Once the list is created, you can add anyone else you'd like by following the first four bullets.

Jitasa's bookkeeping and accounting services are affordable and cater to every nonprofit.
Learn More