3 Best Practices for Fantastic Fundraising Appeals
The fundraising appeal is a crucial part of any successful fundraising campaign. It is the way in which your organization asks for financial support. This can be done in a number of ways, including via virtual means or through direct mail—which is generally more responsive.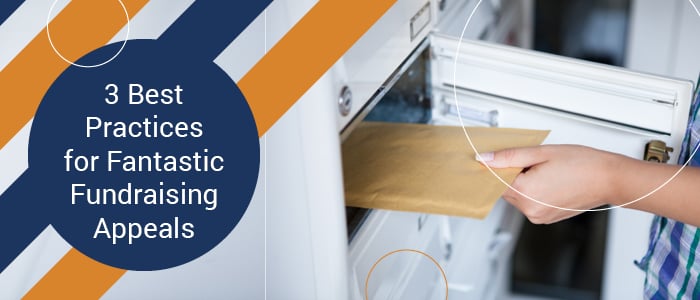 When writing your fundraising appeals, you have to make sure that you choose your wording carefully to get the right message across to your potential donor. After all, you and the donor both know that these appeals are meant to garner financial support from your donors, buf if you come up with strategic ways to make the ask, you are more likely to get the donation.
Implementing strategic appeals is the best way to garner higher ROI and better engagement from your donors. Furthermore, if you use an experienced direct mail agency like GivingMail, your letters will likely appear more professional and increase the chances that the recipient reads and responds positively to your appeal.
By following these powerful tips, you're more likely to collect the funding you need to pursue your mission effectively:
With the best practices in this guide, you're sure to get your fundraising appeals engaging and converting in no time. Let's jump in!
1. Take a multi-channel marketing approach
The first step to improving your fundraising appeals is incorporating multiple channels within your campaign. After all, direct mail is one of the best channels to garner success with your fundraising campaign, and when you combine that with additional marketing and fundraising touchpoints, you can encourage even greater donations for your cause.
By incorporating a multichannel approach, your overall campaign works to familiarize donors with your organization and its mission, and continually build personal connections with each recipient. We suggest utilizing direct mail along with text, email, and social media appeals to really maximize your fundraising strategy.
Furthermore, incorporating a multichannel approach will lead to higher levels of engagement among donors. One key sign of a successful campaign is when your organization is at the top of your donors' minds. Therefore, if your donors think about your organization more often, they will likely want to donate more frequently and more generously. Remember, the more channels that you are able to incorporate into your fundraising strategy, the better off your organization's campaign will be.
However, implementing a multi-channel strategy doesn't have to be immensely complicated. In fact, the simpler you keep things, the more likely your donor's are to recognize and respond positively to your organization. When marketing on multiple platforms, make sure to keep your branding elements (such as colors, logos, designs, etc.) consistent across all channels. In doing this, it builds brand recognition and increases awareness across your many touchpoints.
2. Leverage affordable fundraising software options
Fundraising software can be an immensely powerful tool when it comes to raising money for your cause and creating a successful campaign. When you leverage your software correctly, you can personalize appeals, collect donor data, and tweak your campaign to perfection. The biggest downside? The price. Not all nonprofits have it built into their budget to shell out large sums of money on software.
Therefore, here are a few things to consider when looking into software options:
Price: Your nonprofit may not have money available to shell out for a robust CRM database, which means you may be tempted to seek a low-cost alternative. However, this type of software is a strategic investment that will help you raise more for your cause, meaning the right solution will certainly not be a waste of your hard-earned funding.
Features: Your donor management software likely comes equipped with a number of features, including donor profiles, marketing and communications, and robust reporting. Be sure the solution you choose offers all the features your nonprofits needs and will boost your fundraising capabilities.
Integrations: The best fundraising software solutions integrate with the rest of your nonprofit and fundraising techstack to save time and reduce error. When making your choice, be sure to look for a solution that fully integrates with your top tools—including your direct mail platform and online donation forms.
Overall, when hunting for the right nonprofit software, it's a good idea to find a happy medium between price and functionality. These solutions can be transformative for your nonprofit, so try to budget in the best software you can get with the funds available to your organization. Furthermore, see if you can find software bundles that include all the software you may need for your nonprofit like; donor management software, online fundraising pages, direct mail platforms, and more.
3. Make giving from home as easy as possible
When engaging in a fundraising campaign during turbulent times like these, you have to make giving from home as easy as possible. When sending out direct mail appeals, make sure to include a prepaid, pre-addressed return envelope in order to make the donating part as easy as possible. Additionally, try including a URL or QR code to drive traffic to your website or online donation page. This way, donors can give immediately, on-the-go, from wherever they were when they first felt the calling to contribute.
Another thing to focus on when fundraising from home is building interpersonal relationships. Direct mail has endless possibilities for personalization, especially when combined with a powerful donor management system.
With personalized appeals, you have the ability to make a lasting impression on your donors and forge a connection during a time when relationship-building is hardly taking place. Make sure to implement personalization techniques like storytelling and audience segmentation in order to build long-term relationships and increase donor retention.
All in all, direct mail is a tried and trusted tool to implement within your marketing strategy that can lead to a successful and profitable nonprofit organization. When you incorporate the tips and tricks mentioned in this article, you get to see the benefits such as increased donations, significant ROI, and improved donor retention rates.
Just make sure to implement multiple channels, choose the best fundraising software for your nonprofit, and cater to those who are giving from home. Best of luck!
Author: Grant Cobb
Grant Cobb is a fundraising specialist with over 6 years of experience in the nonprofit space. Currently the head of marketing and analytics at GivingMail, he is a huge proponent of data-driven decision making and the push to bring high-level analytics and fundraising to all.

Jitasa's bookkeeping and accounting services are affordable and cater to every nonprofit.
Learn More