Responses From Our 2013 Client Survey
For the past several years, we've made a point to gather data annually. Our goal, as a young, nimble, growing organization is to continually improve and enhance how we serve nonprofits.
I'm proud that each year our client satisfaction and our quality metrics improve. We're on a long journey with you, our clients, and the nonprofit sector. We want to improve each step of the way.
Here's a snapshot of what we heard from our clients this year: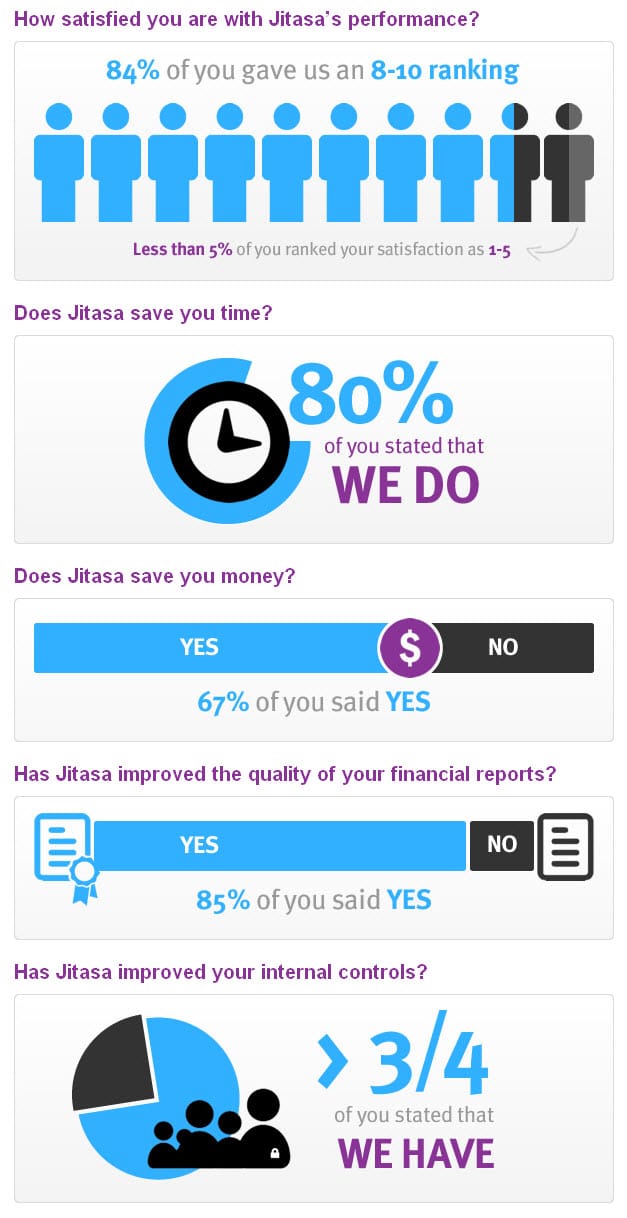 We've listened to the responses of our clients, and developed action items around each data set, and the comments provided. The future holds opportunities to prove we're listening by improving our services. Moving forward you'll see changes such as:


Minimized Disruption - Although committed to our team based model, we understand that changing the "point of contact person" can be frustrating for you. We are putting structure in place to minimize that happening, and working to improve the process when it does happen.
Solutions to Save You Time – We want to save each and every one of you time. We are looking at process and technology solutions that will improve your daily interactions with Jitasa.
Simplified Pricing Options – We've expanded our pricing structure by moving from an hourly rate to a fixed fee that is based on the size and needs of your organization.
New Services for the Sector – We've begun rolling out new, lower priced products that put our services within the reach of smaller nonprofits.
Advanced Analytics – We continue to improve our financial reporting by providing you dashboards, and the regular consultation to understand them.
We'll spend the year completing these advancements and continuing to listen to your feedback.
Thank you to everyone who participated and for putting your trust in Jitasa. We cannot improve without the genuine feedback of our clients. Their feedback will continue to help us improve the effectiveness and efficiency of the nonprofit sector, which is our goal.


Jeff


Jitasa's bookkeeping and accounting services are affordable and cater to every nonprofit.
Learn More